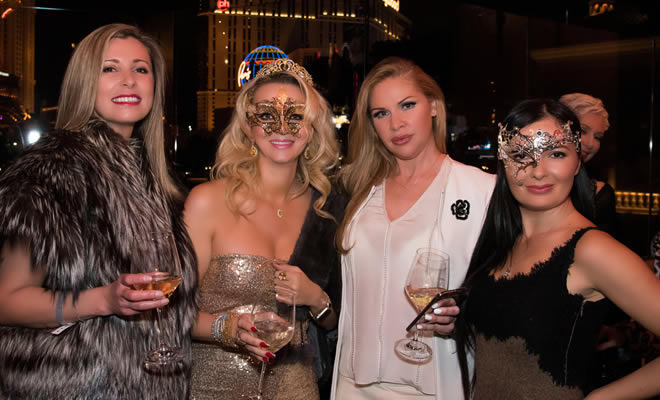 Hyde at Bellagio
|
Sin City's hottest spot, Hyde!  with its sensational view of the Bellagio Fountains from an open terrace, was super busy with all sorts of influential people.
The terrace was buzzing with Don Julio cocktails, sparkling Italian wine HUG, bites from Lavo, and an impressive three tier Tiffany cake for the birthday girl Yelena Bre.
Music, celebration & flowing conversations were in the air! Celebrity DJ & music producer Wade Martin, Latin Pop sensation Christian Nava, Queen of Design Angeles Scorsetti, the renowned abstract & large installations artist Elena Bulatova, Las Vegas Symphony Orchestra CEO Shea Arender, and Selcen Kavruklar High Rise Life magazine publisher were spotted here in the crowd of over 200 people for the Masquerade Ball.
Don Julio created a cocktail in her name,Yelena Bre and Las Vegas Symphony Orchestra's number one violinist Crystal Yuan had special performance for the occasion. She was playing simply virtuously! Positive vibes and inspiring memories were created that evening with Parsa men's skin care launch presenting its Shea Arender collection.
Celebrate your New Year or birthday at Hyde and you will create unforgettable memories with it's award-winning mixology program, vip tables, bottle service and top notch entertainment program. Celebrate right, do it at Hyde. See you in 2018!
Photos: AN&D Studios
Yelena Brezhneva
Author, mother of three children, phylantropist, Las Vegas Personality, Realtor with Sotheby's International Realty