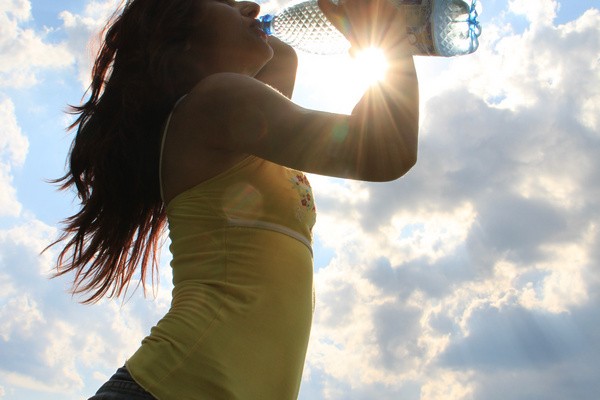 Health and Fitness Tips for 2016
|
Water – How much is enough?
You hear it all the time. Stay hydrated. Drink more water. But how much do you really need?
The Institute of Medicine recommends that women consume a total of 91 ounces (or 2.7 liters) a day while men should drink 125 ounces (or 3.7 liters) a day.
That sounds like a lot, but it shouldn't be hard to get all of that water down. I've come up with a few tips and tricks to help you out.
Add fruit
Use whatever you like and get creative. If you like colder water, you can freeze chunks of fruit and use them as ice to chill and flavor your water at the same time. I like to use infuser bottles when I do this.
Count it all
You can drink water in other forms and have it count towards your daily intake. That includes juices and teas. I like to add organic raw apple cider vinegar for added health benefits. Here's a bonus tip: You can water down juice for lower calories.
There's an app (and bottle) for that
You can use different smartphone apps to help keep track of your water intake, monitor your calories or carbs and to track your exercise. A good idea is syncing the Thermos Smart Lid bottle and app with Fitbit. It's a great idea that keeps track of your monthly, weekly and daily intake of water. This one is definitely on my Christmas list this year!
Out of sight, out of mind
I always have a few water bottles near me. If you don't like carrying plastic bottles, buy a super cool eco-friendly one that you'll be more likely to carry around.
Skip the soda
When you're at a restaurant, order water instead of soda. Try to drink at least half a glass before your meal arrives.
Be sneaky
When you are brushing your teeth or swallowing vitamins and medicines, drink a full 8 ounces of water afterwards.
Allow for Failure
Don't worry if you didn't drink your desired amount. Try again tomorrow. It's a marathon not a race.
Celebrate to the fullest!
These quick and easy tips will help you avoid that awful holiday weight gain and maybe even cancel the need for January dieting!
Don't "save up" calories
Don't fast all day before the party then completely pig out on the food once you get there. The low blood sugar from hunger increases cortisol levels, which means you'll crave those unhealthy foods and end up overeating. Try having light meals and healthier snacks on a consistent basis instead.
Chew gum while cooking
By having your mouth occupied, you won't be constantly sneaking bites… and unnecessary calories. Gum with a strong mint flavor is especially effective.
Indulge your cravings
Don't put all holiday meals off-limits. You will hate missing out on those special foods, so don't completely refuse them. Help yourself to a small portion instead.
Dress up
One way to keep your eating habits in check is by throwing away the "buffet pants" in your closet. Try wearing fitted clothes instead. It could help with portion control if you're thinking about how you look and feel in that form-fitting outfit.
Hit the snooze button
Get plenty of sleep. Just because you're super busy doesn't mean it is okay to skip out on beauty sleep. Research shows people who sleep less than five hours a night have lower leptin levels. (Leptin is a hormone that controls how full you feel.) When you are tired, you feel hungrier and less satisfied after meals.
Be generous… with your calories
If you are hosting a holiday party, make sure your guests take some food home so you don't have the urge to binge eat leftovers in the fridge.
Low-Cal Snacking
Keep your waistline looking good by snacking on these delicious low-calorie foods.
Celery
Without ranch of course!
Oranges
They usually contain about 45 calories (for the whole thing!) and are high in fiber.
Strawberries
Super popular for being sweet and juicy. Have them in the morning for a metabolism jumpstart.
Tangerines
Don't look for candy in your purse or desk drawer at work. Tangerines are an awesome portable snack that you can enjoy anytime.
Grapefruit
Half a grapefruit only contains 36 calories but 78% of your daily value of potassium. Just don't add that extra sugar on top.
Carrots
Baby carrots are perfect for when you have the urge to crunch on something… and they're just 26 calories for a half-cup.
Apricots
Indulge in nutrient-rich apricots for a sweet snack with low calories. Your higher metabolism and thinning waistline will thank you.
Lettuce
Make yourself a hearty salad with lots of lettuce and other veggies. Just don't get crazy with the dressing.
Tomatoes
Chop up a tomato to give your sandwich, salad or egg white omelet extra flavor without adding a lot of calories.
Cucumbers
Cucumbers are great for crunching on when your mouth is getting bored.
Watermelon
It's as delicious as eating candy because of its super sweet juiciness. Plus… you'll burn off calories crunching and digesting it while spitting out the seeds.
Cauliflower
Raw cauliflower is naturally low in fat and of course, calories.
Apples
An "apple a day" is good advice. Eat them as a snack instead of candy bars or chips to keep the calories at bay. With only 81 calories per apple, your body also works a lot harder and longer to digest them.
Hot Peppers
Use them as an alternative to spice up healthy meals instead of excess seasonings and heavy dressings.
Zucchini
A versatile food that can be baked, steamed or prepared in many other ways with just 15 calories per 100g. Avoid the temptation of frying them!
Need some more inspiration?
Mary Aluas, owner of the Pink Tutu Ballet Company at the Downtown Container Park in Las Vegas, shares a few of her own fitness tips for the new year.
Make sure you go to bed at the same time each night and get a full eight hours of sleep.
Get some exercise done in the morning, including at least 30 minutes of cardio 5 days a week, resistance workouts 3 times a week and make sure you stretch every day and night.
Try to take the stairs and walk whenever you can.
Eat six small meals a day to prevent overeating and keep your appetite under control.
Hassett Gravois is the famous Mixology Connoisseur and author.  She is also Vegas 2 LA Magazines Beverage Director and Resident Mixologist