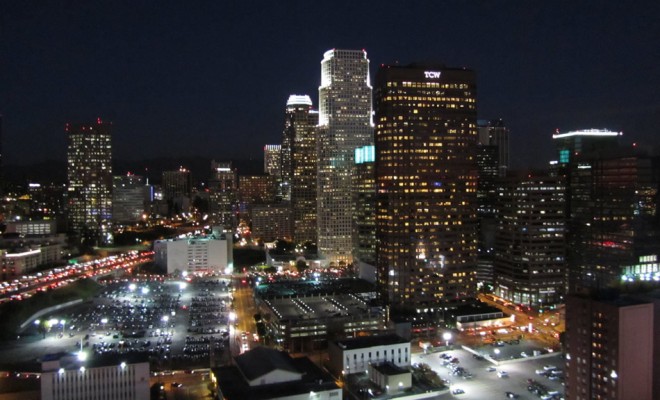 From Silicon Beach to the Digital Desert:
|
A look at the Vegas2LA tech scene
By Adam Bell
With the debut of a new technology column targeting both Las Vegas and Los Angeles, it's interesting to see how two cities known for entertainment are currently entertaining tech businesses, startups and agencies hundreds of miles away from Silicon Valley.

Living in Los Angeles for the past nine years, I've seen growth in this community ebb and flow. There was a noticeable boom in the late 1990s back when the area was tagged the "Digital Coast" but then it went bust in the early 2000s. That left few startups, few tech events and not much of a community to be had at all.
That started to change around 2008. I'd like to think I had a little to do with that when I created a user group for creatives and coders called LAdobe (www.laadug.org). However, the real start occurred when Andrew Warner started Mixergy (www.mixergy.com) which was a way to get the tiny tech scene together for regular events that were usually around Venice and Santa Monica. Warner eventually left the area but the scene continued to flourish as Kevin Winston, having recently been released from MySpace, started up DigitalLA (www.digitalla.net) as a series of tech seminars, events, mixers and eventually, a full-blown conference. Silicon Beach Fest completed its third edition in June and is now the West Coast's answer to Austin's SXSW Interactive.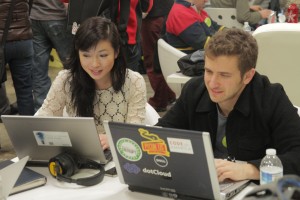 Los Angeles has also attracted many of Silicon Valley's top studios. Yahoo has their regional offices in Santa Monica in an area called Yahoo Center which also houses everything from video game companies to television networks like HBO. Google moved their regional offices to a Frank Gehry designed space in Venice while sister company YouTube unveiled a location in Playa Vista. It features television studios where YouTube channel partners can produce content with state-of-the-art video production facilities.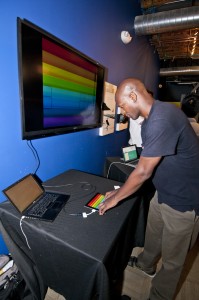 The scene received a boost with the proliferation of co-location or collaboration spaces. They give startups and developers a chance to procure a small space in larger buildings at a fraction of what it would cost to rent a spot in an office complex. Coloft was the first of these on Santa Monica Boulevard. Today the region is littered with these spaces from the West side to downtown and even The Valley. Spots include places such as BlankSpaces, WeWork, WorkingVillage, CrossCampus, OfficeSlice, IndieDesk, R.O.C. (Real Office Centers) and many more.
As for the startups themselves, the big winner here is Venice-based SnapChat which represents part of the next wave of social sharing apps. For those unaware, the app allows you to send photos which disappear just a few seconds after being received. After Facebook unsuccessfully tried to purchase SnapChat for a remarkable $3 billion, it recently released its own variation, SlingShot. Time will tell if SnapChat can continue to maintain popularity with its userbase.
Las Vegas is a bit unusual. Besides holding numerous tech conferences on the Strip, is there even a scene here?
There is. And it's growing.
When most people think of Vegas and tech, the first thing that comes to mind is Zappos, one of the most respected businesses in the e-commerce sector. Its customer service and utilization of social media are legendary in the industry. The most famous example of this was the Zappos customer service representative who actually paid to have pizzas delivered to a customer who was snowed in and without power for four days.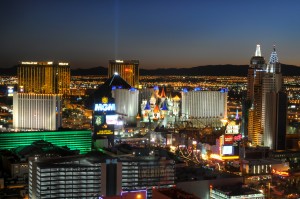 Led by the Vegas Tech Fund and the Downtown Project, the scene is starting to show rapid growth. Co-location spots like the inNEVation Center and Works in Progress host a wide variety of startups. While the area hasn't created its first SnapChat, it's only a matter of time.
One big advantage of being in the Vegas tech scene as opposed to LA or San Francisco is that the cost of living is definitely lower than in the Golden State. Add in the lower cost of starting up a business in general and Vegas is ripe to join its West Coast contemporaries in the digital arena.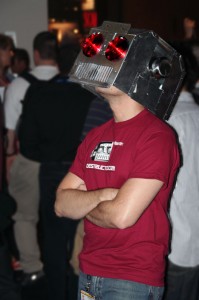 Another huge advantage to developing in Vegas is all the various tech conferences that arrive on the Strip. From small workshops to large events such as the Collision Conference, the local community offers tremendous opportunities to get noticed and obtain work. It's an advantage that simply cannot be found in most cities.
While most people still don't look at either Los Angeles or Las Vegas as tech hubs, it's clear that new developments are on the way. From the rise of tremendous start up cultures, to the opportunities granted in a small but expanding workforce, these changes are already taking place in Southern California and Vegas' turn is coming very shortly.
Adam Bell is the Design Director and CEO of dataTV, a web design, branding and marketing company based in the Los Angeles area. You can check out dataTV at www.datatv.com or email Adam at dzign@datatv.com.