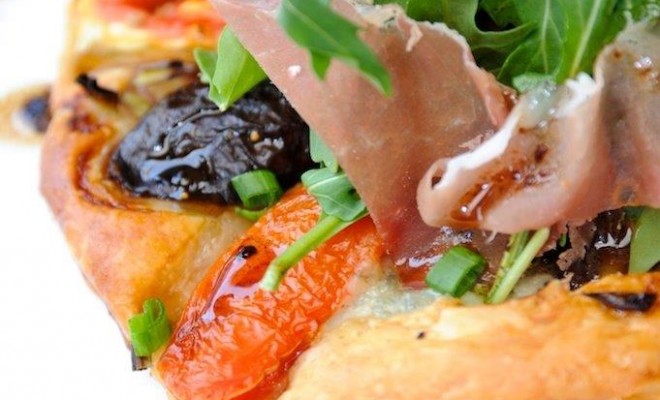 Fig & Olive
|
A Visit to the French Riviera via Newport Beach
By Bob Barnes
Sitting on the outer circle of the trendy Fashion Island in Newport Beach, Fig & Olive is one of eight locations founded by Laurent Halasz with additional venues in New York City, Chicago, Washington, D.C. and Southern California. The massive 12,000 square-foot space accommodates more than 300 guests and will instantly transport you to the French Riviera with live olive trees and rosemary, gardens and both indoor and outdoor seating. The Orchard Room is the main indoor dining area, highlighted by a high ceiling with wood beams, hundreds of olive oil bottles on display above the open kitchen, banquettes with a myriad of comfortable pillows brightened by white stucco walls and windows allowing for natural light. There's also the White Room bedecked in all white linen and chairs where DJs spin on weekends, the Wine Room containing four wine cellars, and the open and airy Cocktail Lounge with living room seating that spills out onto a patio with a fire pit, rattan chairs, dining tables, sofas and a retractable roof.
The northwestern Mediterranean menu of Italian, Spanish and French cuisine varies only slightly from lunch to dinner. The restaurant stays true to its name and uses a large variety of extra virgin olive oils as the core ingredient in place of butter. Your meal is off to a unique and enticing start with a tasting of three olive oils: Arbequina from Spain (sweet, buttery and apple flavors), Cobrancosa from Portugal (creamy, green apple and almond) and Koroneiki from California (green fruit and herbaceous). Follow it up with a varied selection of eleven delectable Crostini combinations that you can enjoy in groups of three or six. We went with goat cheese, caramelized onion and chive; Manchego, fig, and Marcona almond; and prosciutto, ricotta, fig, olive and walnut. All were stellar choices and a wonderful mix of flavors and textures.
Appetizers worth exploring are the heirloom tomato enlivened with jumbo lump crab, an avocado basil tapenade and basil-infused olive oil, and sea scallops seasoned with l'orange spice, carrot olive oil tapenade and Picual olive oil.
On the pasta menu, the Fig & Gorgonzola Risotto is a very rich mix of Arborio rice, gorgonzola, fig, mascarpone, Parmesan and balsamic glaze.
Fish selections are highlighted by Mediterranean Branzino glazed with fig and an 18-year-old balsamic vinegar and tender melt-in-your-mouth Chilean Sea Bass (dinner menu only) marinated with lemon thyme and served with celery root puree, roasted potato and a harissa olive oil emulsion.
The poultry and meat menu features a very moist Provence Roasted Chicken composed of Mary's Free Range chicken marinated with Herbs de Provence that arrives in a cast-iron skillet with fingerling potatoes and ratatouille as well as Rosemary Lamb Chops with goat cheese and chive gnocchi, braised eggplant and rosemary garlic olive oil.
Hopefully you'll still have room for some sweet finishes. We liked the Dessert Crostini of shortbread topped with strawberries, mascarpone, balsamic and micro basil in addition to the Warm     with candied orange and Häagen Das vanilla ice cream.
More than 80 bottles of wine and 30 wines by the glass are offered, with the majority of the varietals hailing from France, Italy, Spain and California, including the 2012 Terroir Napa Valley Cabernet Sauvignon – a blend of Cabernet Sauvignon, Petit Verdot, Merlot, and Malbec – which I found to be a perfect companion to my meal.
The Fig & Olive staff is complemented by Stephanie Kieu, a nutrition major who has been at the restaurant since its opening in December 2013. Stephanie's family is from France, where she lived from the ages of two to five and grew up with an appreciation for great food.
"I am very passionate about food and love the food here," she says. "It's phenomenal and the staff, management and cooks all get along and work together well."
Fig & Olive is open for lunch Monday-Friday noon to 3:45 p.m.; dinner Sun. to Tue. 4 p.m.-9:30 p.m., Wed. 4 p.m.-10 p.m., Thu. 4 p.m.-10:30 p.m. and Fri. & Sat. 4 p.m.-12 a.m.; and brunch Sat. & Sun.11:30 a.m.-3:45 p.m.
Fig & Olive
Fashion Island
401 Newport Center Dr. (Pacific Coast Hwy. & Newport Center Dr.)
Newport Beach, CA
(949) 877-3005
www.figandolive.com
Bob Barnes is a native Las Vegan, editorial director of The Las Vegas Food & Beverage Professional, regional correspondent for Celebrator Beer News and covers the Las Vegas restaurant scene for Gayot .com. He welcomes your inquiries and can be reached via email at lvbobb@cox.net.