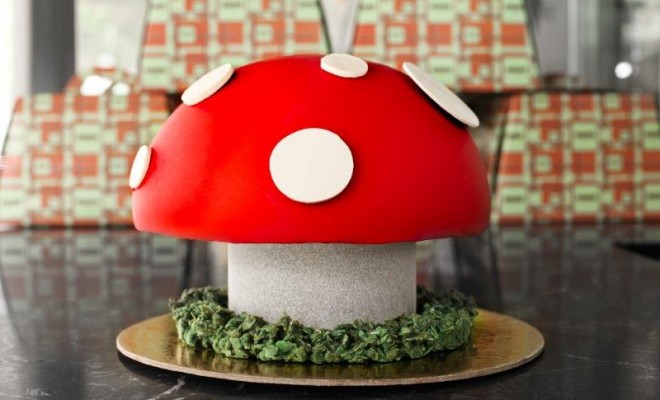 Downtown Summerlin
|
Cool Spots for the Summer in Las Vegas
Being a restaurateur is not easy. Just having one successful establishment is a feat in itself. Working long hours, weekends and holidays away from family, not to mention financial worries, are not for everyone. The odds are great that most restaurants will fail. However, some rise to the top, have the right stuff and are truly a rare breed.
We have been fortunate over the years to bear witness to a special partnership that has, along with a stellar team, opened a handful of successful restaurants in Las Vegas. Their venues are not a chain, rehashing and copying the first success. Each one is unique, standing out in a crowded field of choices. Renowned restaurateurs Elizabeth Blau and her husband Chef Kim Canteenwalla are the great minds behind Honey Salt, Made L.V. and Buddy V's Ristorante, their collaboration with "Cake Boss" Buddy Valastro at the Venetian.
So there was great anticipation for their newest and most ambitious offering yet, but the wait is over! Andiron Steak & Sea is now open in Downtown Summerlin. We attended the VIP opening along with a who's who of local and national journalists as well as chefs and celebrities. Impressive to say the least, Andiron is simply breathtaking. Designer Thomas Schlesser really went all-in with the fresh open interior décor of the main dining room, a very sexy lounge and a relaxing patio where guests can dine al fresco.
Elizabeth and Chef Kim know it takes a team to be a success and named managing partners Stephen Jerome and Chef Joseph Zanelli to lead the operations team. Both are familiar faces from Honey Salt and Made L.V.
With the opening of Andiron, this dynamic team has taken fine dining to a whole new level of sophistication, and not just for the very swank Summerlin crowd, but for anyone in Las Vegas and beyond. It's been a long time coming.
Andiron Steak & Sea should be visited on more than one occasion to get a true feel for the restaurant and mixology. Start your experience off with the tasty Little Gem Lettuce salad with maytag blue cheese, vine ripe tomatoes and maple glazed thick-cut bacon. The steak tartare is a nice blend of grass fed tenderloin, capers, Dijon mustard and quail egg with grilled bread. Don't forget to order the Hudson Valley foie gras with huckleberry jam and toasted brioch. This is only a start!
Looking at entrées, we suggest you do some exploring. For the carnivores, sink your canines into a 36-ounce Tomahawk Chop for two. You can't go wrong with the 18-ounce Creekstone Farms bone-In ribeye, cooked medium rare of course. For lighter fare, enjoy a 9-ounce Wagyu skirt steak.
From the sea, a stellar choice is the Scottish salmon with Serrano ham crust, shaved brussels sprouts and cipollini onions topped off with a Peruvian chili glaze. Chef Kim himself suggests the grilled whole branzino with roasted peppers ragu, capers with wild fennel and pine nuts. All we can say is perfecto!
Veggie lovers should try the Whole Roasted Cauliflower Steak with cauliflower puree, king trumpet mushrooms and pickled Fresno pepper vinaigrette.
For a great finish, doesn't be shy. Bite into Ashley's Crème Brulee Donuts featuring rich vanilla custard or a nice Warm Pecan Carrot Cake with bourbon cream cheese and pineapple currant compote.
Hungry yet?
The wine list is strong but the cocktails are definitely worth checking out. The lounge features the classic Andiron Martini with Stoli Elit vodka, Vittone Bianco vermouth and stuffed olives. The Midnight Rambler is a Chef Kim original recipe and a personal favorite, featuring Bulleit rye, maple syrup, and angostura bitters. The Pineapple Bump with Absolut Elyx, pineau des charantes, pineapple, apple vinegar, fresh lemon, and club soda has also been creating quite a buzz.
Downtown Summerlin has plenty of options for a more casual dining experience as well.
Walking around the shopping hot spot can build up an appetite. Ribs & Burgers is the place to go if your stomach is a rumbling, mate. The Australian-based restaurant brand has branched out to include Las Vegas in its American debut.
Let's start with the burgers. The Midwestern grain-fed beef comes grilled, basted and served on a sesame bun with lettuce, tomato, onion, dill pickles and the restaurant's own special sauces. Sounds good, doesn't it? We were pleasantly surprised at this simple burger, made Aussie style, with the meat placed on top of the accoutrements, therefore sealing in all that drizzling deliciousness. Just tweaking a simple routine made a juicy difference in a city filled with burger places.
The ribs come sizzling hot, and we mean piping hot, so be careful of that first bite. But it's the heat that infuses all those juices within the ribs, which are slow cooked for eight hours to ensure the meat is downright finger-licking juicy by the time it reaches your table. The flavor factor is largely attributed by the quality of the meat, which is hand-prepared, grass fed and hormone free.
The Salmon Burger features a tasty teriyaki basting, baby lettuce, tomato, Spanish onion, baby capers and dill mayo. Aussies also know about good lamb and the amazing Lamb Burger is made with delicious minced lamb, fresh salsa, baby lettuce, caramelized onion, hummus and tzatziki.
The 100% pure beef patties and free range chicken breasts along with the best quality ribs and fish reflect the mission of this place. It's one of honest food and genuine hospitality that can help feed a better world. We're glad that you can now skip the fast food and get some real food fast, albeit by way of Australia.
Right around the corner is another Australian import making its American debut in Las Vegas. Gelato Messina is the perfect spot for desserts. The gelato is among the best anywhere in the world, especially when it includes chunks of fresh apple pie baked in house. There is also a great coffee menu and cakes that are virtual works of art. Slice into the red ganache shell of Dr. Evil's Magic Mushroom for a world of deliciously sweet decadence with dark chocolate, peanut cookie and dulce de leche gelato, layers of vanilla cream and chocolate sponge cake.
There's more.
One of our favorite Las Vegas spots has opened up a second location in Downtown Summerlin. MTO Café, accented by bright orange hues, is open, airy and a flurry of energy in a laid back California kind of way. It's the creation of owners Ben Sabouri and Matt Moore, who formed Shift Solutions two years ago based on their love of the restaurant and hospitality industry. The culinary vision comes from Chef-Partner Johnny Church of RM Seafood and Rx Boiler Room fame. He offers a new take on comfort food, making "fast food" healthy and fresh.
A very tasty bowl of brussels sprouts in tart cranberry balsamic reduction is a great way to start. Try the Hen House Wrap, perfectly prepared with organic chicken, lettuce, roasted tomatoes and avocado. It's delightfully palate pleasing and at just $11, a treat for your wallet as well.
The grilled cheese on brie with local honey, toasted walnuts, brioche and a side salad adds up to a simple lunch that reminds us of our childhood with a healthy spin. Another great way to start your day is the "Chicken in a Waffle" in which mouthwatering fried chicken is served between two waffles.
In the mood for a soup and salad? MTO Café has that for you as well. Enjoy a choice of tomato basil with grilled cheddar toast or baked potato soup with cheddar, scallions and bacon. And of course, classic the French onion with rich gruyere, parmesan and provolone should be a top choice on your list. The Strawberry Fields salad with arugula, blue cheese, strawberries and red wine balsamic is a must.
That's just the tip of the iceberg. Grape Street Café is the perfect spot for wine lovers. Enjoy a great bottle of wine along with our personal favorite, the Salmon Burger on their patio. Celebrity chefs are getting in on the action too. Stop in to the Wolfgang Puck Bar & Grill for lunch or dinner. The California Pizza Kitchen is perfect for families while the Lazy Dog Restaurant & Bar lives up to its name by offering an outdoor patio (and special menu) for your four-legged friends. Don't forget about CRAVE which offers American bistro selections on one side of the menu, and Japanese cuisine on the other.
Downtown Summerlin has changed the face of the west Las Vegas valley and will continue to grow and evolve into a venue for everyone. If you desire world class shopping, entertainment and dining, this is the place to be all year round.
By Elaine & Scott Harris
Downtown Summerlin