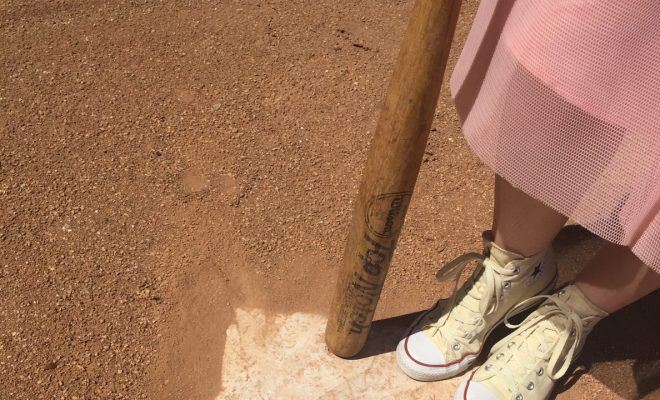 Chicago Cubbies
|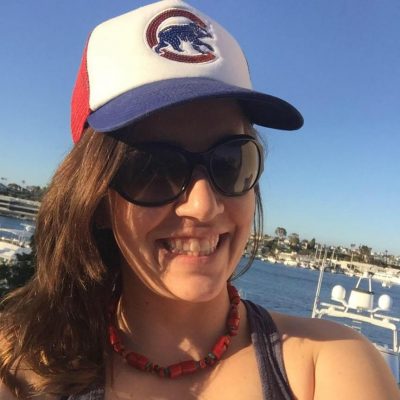 Hey Chicago Whatya Say
"Ability may get you to the top, but it takes character to keep you there." ~ Ernie Banks, Mr. Cub
How do I put into words this past baseball season with my Chicago Cubbies ? Every time I have tried to I start being a ball of emotion. It has now been two months and a couple weeks since their World Series win and although I definitely am still an emotional ball of joy, I finally feel like I am wrapping my head around what happened on November 3rd, 2016 and the dates that led up to it.
With Spring Training just around the corner now is the perfect time to reflect. This was a day and event that my dad, myself and all Cubs fan will never forget. We are Cubs fans no matter and the Cubbies definitely did not suck !
The events leading up to the 2016 World Series began way before. It began before I was born, which is when it was decided I would be raised a Cubs fan. Both my parents are from Chicago, my mom likes the Cubs, but my dad is a diehard fan since he was 5  years old so being a Chicago Cubs fan is in my blood. You best believe I am proud of that.
It took the Cubs a while to get here, but the heart and working to get here never waviered. The struggles made us stronger, including 1945, 1984, 2008, the 101 loss season, and everything before and in between, but it all made 2016 that much sweeter, surreal and allow us to appreciate it that much more. We can truly now say the goat is dead !
Now the playoffs of 2016 were slowly approaching and the Cubs clinched a playoff berth in September with their 103 wins and now it was time to tackle the San Francisco Giants in the NLDS. It is a team that has been amazing in even years and the one that made me the most nervous, but the Cubbies didn't let that phase them. Throughout this series there were moments where it was thought to be over like when were down, a 13-inning loss, which is one of the moments my dad and I felt a hit to our gut, but the Cubbies continued to battle back and advanced to the NLCS against the LA Dodgers.
Here we were now in the NLCS, the series before the World Series, and it has been 8 years since the Cubs have been here. The 108 years since winning a World Series is  flashing before our eyes and I can feel it, it's our time!
Growing up in LA as a Chicago Cubs fan was interesting, but I wouldn't change it for the world. So we watched the Cubs face one of the best pitchers in Clayton Kershaw and lost, but the Cubs found a fire and fought back and killed it in Game 2. Chicago was electric around Wrigley Field and the bus came back from being down 3-1 and won the series. Guess what ? My dad and I got to hear the words, "The Cubs have one the National League Pennant and are going to the World Series!"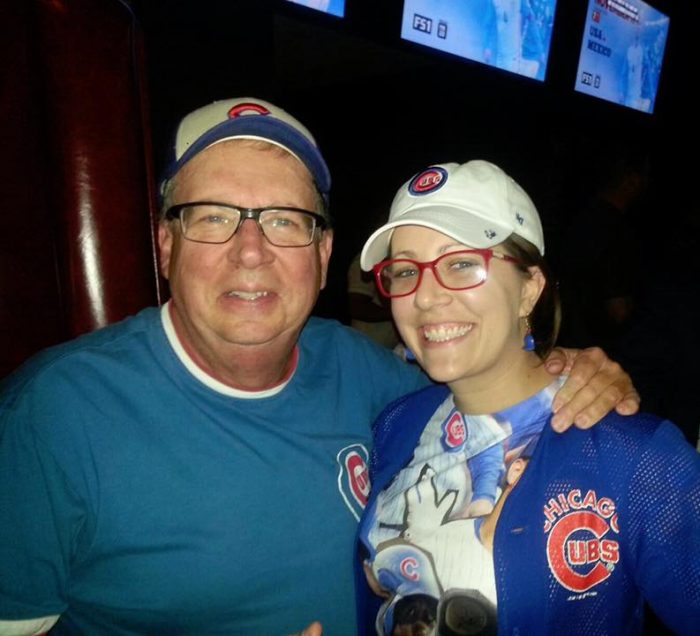 I watched this final game at home with my parents and to share in it with my parents and to share in it with them was a flood gates of emotion. To watch my dad watch the moment where the Cubs clinched the pennant to advance to the World Series, well it makes me cry tears of joy. It is a moment I will never forget and always cherish.
I still couldn't believe I was sitting down with my dad to watch the Chicago Cubs take on the Cleveland Indians in the World Series. Something neither of us have ever seen, but dad has known more pain then I have with the Cubs. I do feel some of his though. Through out this series I think I soaked up his nerves because I was a wreck: screaming and pacing. This was still such an amazing time to watch the World Series between 2 teams that collectively have gone 168 years without a World Series win, which is crazy, but made for one heck of a World Series.
We watched at home, with fellow Chicago fans and at Rocco's Tavern, all truly made for some spectacular moments. I could go on and on about the ups and downs of the World Series so I will touch on a few moments that stand out.
Lets start with Javier Baez stealing home in Game 1 . I think we all did a double take because it's like who steals home in the World Series? Well Javier Baez of the Cubbies does and as Joe Maddon said , "That is true baseball instinct that cannot be taught."
Then we have Grandpa Rossy's homer in Game 7 that helped the Cubs move forward and ahead in the game. For his last game ever, he went out on top! I am a Grandpa Rossy fan for life.
The Cubbies were leading the whole game and then there was moment in the 8th inning of Game 7 where Cubs fans ,including my dad and myself, felt like we all go punched in the stomach. That moment was when Rajai Davis hit a 3 run homer off one of the great closers, Aroldis Chapman, to tie the game. Chap and everyone came back and were able to shut the 9th inning down, but it felt like hope was dwindling. So I was at Rocco's Tavern with my dad and friends and I went to the bathroom and said a prayer for the Cubs to find the strength and heart they have had all year to make this historic win happen. What happened next is a true miracle, the rain came tumbling down in Cleveland and usually it is the worst thing to happen to a game, but this may been the one time players and fans were thankful for it. Luckily the rain fall happened for only 10 minutes, but during that time Jason Heyward of the Chicago Cubs gave a speech to his team that relit the fire again to keep going and that they could make it all happen. Boy did that turn it around along with Ben Zobrist and Miguel Montero's hits in the 10th to bring it home.
It is now the bottom of the 11th with Carl Edwards JR pitching 2 outs and Mike Montgomery is now on the mound with tying runs on base, nerves are in full swing. The ball gets hit to Kris Bryant who slips, but makes the throw at first to Anthony Rizzo, which he caught and the out was made. Anthony Rizzo making the catch and putting that ball in his pocket was more than meant to be considering he was with the Cubbies when they had 101 losses. The moment of all things amazing was real and it was true. the Cubs were and are the 2016 World Series Champs !!!!!!!
I hugged my dad who was in a joyous state of shock and Go Cubs Go was everywhere along with the hugging of strangers. Life was and is forever changed because baseball is family and being a Chicago Cubs fan just got a little bit sweeter, actually a lot of bit sweeter!
All I have to say now is Hey Chicago Whatya Say ? The Cubs are World Series Champs today !!
Here is to the next season! We will be embracing the target !
~Kerry , Cubs Fan for Life
P.S. Loved seeing all the celebs out in support like Eddie Vetter, Bill Murray, Brett Eldridge and many more. Along with that record breaking Game 7 the victory parade in Chicago was amazing with a record breaking 5 million present and one we will never forget. Here is to the next one ?