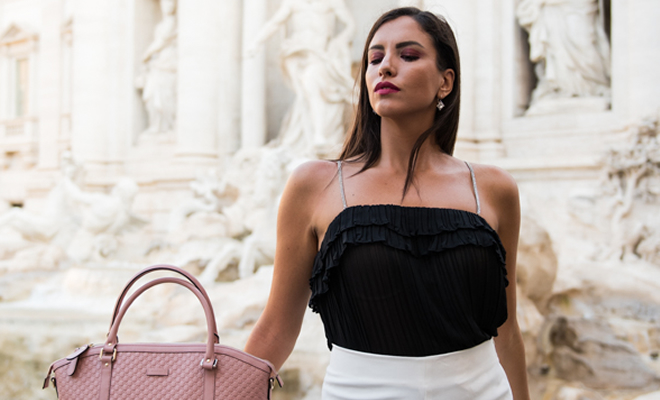 Visit Italy
|
Italian summer, fourth shooting in the second city of the Influencer where she lived for 3 years: elegant clothes and colors of the tricolor look to give strength and visibility to the Italian capital Rome all over the world through its social channels.
It is called Italian Summer and it is the project launched by the digital creator and influencer Eleonora Bernardi Zizola, creator of the Woman Power.it blog, with the aim of promoting the art cities of the boot to enhance them as they deserve all over the world. To make all this possible, Eleonora has decided to convey images that portray suggestive glimpses of some of the most beautiful Italian cities through her social channels that reach 500,000 followers around the world.

The first edition featured Venice, the hometown of the young blogger, followed by Milan, Verona, Rome and Amalfi. Accompanied by a team of women only, she decided to portray settings capable of creating interest and desire, making places and art known and highlighting those emblematic places of Rome, known in Italy and in the world.
Wearing elegant clothes with an Italian style, Eleonora chose symbolic tricolor colors with the aim of spreading motivation and strength, but also beauty and attraction, exactly as a country like Italy does.
Former basketball player of the Italian national basketball team, what binds Italian cities to Eleonora is a form of true love: "During my career as a basketball player, I traveled far and wide our country: every trip was an opportunity to discover streets and squares, let myself be enveloped by the history, beauty and uniqueness of each place and thus allow bad thoughts to leave room for beauty. Italian cities have helped me to motivate myself, to pursue my dreams to become the woman I wanted to be, that is everything I tell through my blog WomanPower.it ".
I felt that the time had come to give something back, so I think I can promote their beauty through my social channels and give my contribution to revive Italian tourism in the world after this historical period ", he concludes.
Involving Made in Italy brands of the fashion world and carrying out a discourse of fashion inclusion and female empowerment, Eleonora portrayed in the fourth stage with a shooting some key places of the City of Rome, from the Trevi fountain, the Altare della Patria, the Pantheon , Piazza di Spagna and then reach the Colosseum wearing clothes in colors that recall the
Italian flag.
Self-made and Italian Tall Blogger @womanpowerblog
Photos: Valerie Castellano