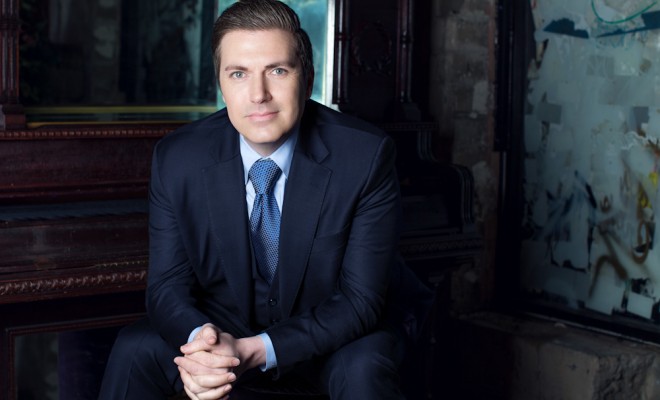 Vegas is Home for EDC
|
How Insomniac Built an Electronic Dance Mecca in Las Vegas.
The Vegas2LA Interview with Pasquale Rotella
By Rob Kachelriess
As the founder and self-professed "Experience Creator" of Insomniac Events, Pasquale Rotella has taken electronic dance music (or EDM) to new heights with a series of festivals featuring DJs, carnivals rides and more neon than you can shake a glow stick at. His biggest event is the Electric Daisy Carnival which appears throughout the year in cities around the world, but the biggest one of all is in Las Vegas. The three-night dance party returned to the Motor Speedway in June with a record crowd of more than 400,000 over the weekend. That's about 134,000 people each night.
Rotella talks to Vegas2LA about why Las Vegas is the perfect city for EDM, how he's addressing concerns about drugs at his events and what he really listens to on his iPod.
V2LA: How does the Electric Daisy Carnival in Las Vegas compare with some of the other Insomniac events held throughout the year?
PR: We do EDC in London, Orlando, New York, Puerto Rico, Mexico… and Las Vegas is the "New Year's Eve" of all our festivals. So everything we do throughout the year, it's like a culmination of all that all in one. EDCs that happen out of town, they're accompanied by the tagline "On the Road to EDC" in the marketing because it's our biggest splash of the year. It's our Apple Drop, It's our mardi gras. It's the celebration of the entire year. It's definitely our largest (event).
V2LA: Tell me a little bit about how Las Vegas has welcomed Insomniac and EDC. It looks like you have a lot of support, not just from the fans in Vegas but also from law enforcement, politicians and local community leaders who welcome an event like this and the business it brings to Vegas.
PR: It's amazing to have the kind of support that Vegas gives us. We get support in other markets but not on this level. Las Vegas is in my opinion, the entertainment capital of the world. There's so many different kinds of events and it's such a great destination for people who want to get entertained. There's no better place than Las Vegas and the city's built that way. (In) other cities, it's kind of an afterthought or a side thing. Vegas is built to entertain on all levels. You can come here for EDC but you can go to a bunch of different shows on the Strip. You can go to theatrical shows, you can go to nightclubs, you can go to pool parties, you can go to dinner theaters. It's endless. The airport's easy to get in and out of. There's transportation waiting for you to take you to the Strip and to the hotels not far from the airport. It's perfect.
V2LA: Having a home in Las Vegas yourself, is it safe to say that Vegas is now the home base for Insomniac?
PR: It's home for our largest festival in our portfolio and it's where I live but because we're from LA and I built the company in LA and Southern California, that is our company home base… but EDC's main home is Vegas and it's a big part of what we do. But we do a lot of other festivals. We have 16-18 festivals a year. EDC is only one of them but it's our largest so (Vegas) is home for EDC.
V2LA: Insomniac recently announced there was going to be a few more festivals in Vegas throughout the year: Beyond and Nocturnal Wonderland. So what can you tell us now about those events? I know there aren't any official dates or locations yet.
PR: I'm excited about doing the festivals here. EDC Vegas has given us the confidence (to where) we feel like it's time. It's time to bring some of our other brands here… When you come to Vegas, we definitely get worldwide recognition
V2LA: Do you know at this point where those additional festivals will take place in Vegas?
PR: We have three different options… We haven't picked which location yet. We're pretty close to signing. There's one venue (where) we're going to do one of the festivals… and we're excited about that. It's on the Strip.
V2LA: The Rock n' Rio organizers are setting up a permanent outdoor concert venue at the north end of the Strip. Is that a venue that Insomniac is considering?
PR: Absolutely.
V2LA: Is it on the list of three that you mentioned?
PR: It's not.
V2LA: EDM is often associated with drug use and I know in the past, EDC has taken steps to address that.
PR: We have strict guidelines that we enforce and between security and police, we have the best medical facilities that I've ever heard of at a festival. For most of (the fans) it's not about (the drug use). I understand that there's a stigma but I care about the people and the fans… I don't care what kind of music it is. Rock or hip hop or whatever, you're going to have issues, especially when you're having 400,000 people over three days with the age demo that we're talking about…. I feel that we have the best safety and security measures in place that you'll see anywhere.
V2LA: How much of a fan are you of EDM versus other music? If I was going to look at your iPod or your iTunes selection, how much of it would be EDM and what else would be on there? Would anything surprise me in your music collection?
PR: I listen to everything. I have the same amount of dance music as classic rock, hip hop and reggae. I love it all. And jazz. I love Black Sabbath, Rush, Led Zeppelin. I listen to old hip hop. I grew up with hip hop in the early 90s. I get bored if I don't change it up.
V2LA: Would you be interested, perhaps down the line, in promoting something different? Like a jazz or reggae festival?
PR: I would. Absolutely. Yeah. I want to perfect what I'm doing first. I'm not done building my vision.