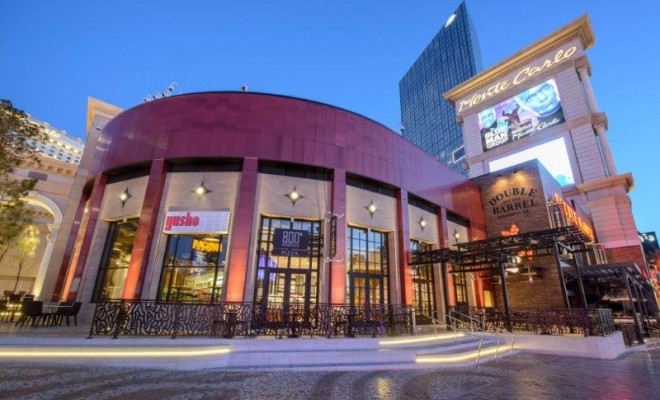 The Best Bites at the Monte Carlo's new outdoor plaza
|
By Debbie Hall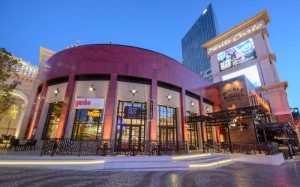 Photo: Al Powers
Whether you're visiting or playing tourist, Fall is considered by many to be the best time of the year to enjoy Las Vegas. One of the top spots to enjoy the outdoor weather on the Strip is the Monte Carlo Resort and Casino which recently completed a multi-million-dollar reinvention of its façade facing Las Vegas Boulevard. The open-air plaza features live entertainment and the festive two-story Mexican restaurant Diablo's Cantina as well as five new indoor-outdoor restaurants…
The Double Barrel Roadhouse – offering up all-American food in a casual and lively atmosphere.
Yusho – inventive Japanese-inspired street food by celebrated chef Matthias Merges.
BLVD Creamery – a contemporary ice cream shop with innovative flavors and unpredictable desserts.
800 Degrees – a pizzeria from the California-based restaurateurs behind Umami Burger.
Sambalatte – a Las Vegas-grown premium coffee experience.
Here's a look what you should samples at the Monte Carlo's new plaza. Our advice: Try them all.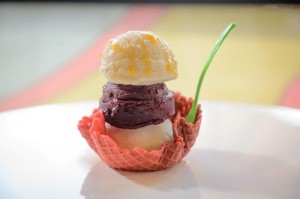 Photo: Al Powers
Boozy Ice Cream
Raise your cone to America with BLVD Creamery's booze-infused creamy treats, exclusively for those 21 and over. Have a scoop (or two) of all-natural spiked ice creams made with champagne and cabernet sauvignon or for the craft beer fan, sweeten your party with citrusy Shock Top-flavored Suds Sorbet. Other organic ice cream flavors include watermelon-jalapeno and avocado.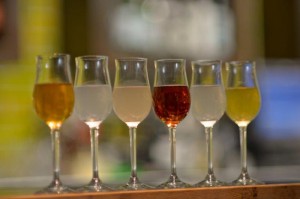 Photo: MGM Resorts International
American Classic Snack Tower
Build an enormous snack tower at Double Barrel Roadhouse to satisfy a big appetite. Fill your masterpiece with unique twists on classic American fare such as Spicy Smokin' Chicken Wings, Loaded BBQ Nachos, Crispy Meatloaf and more.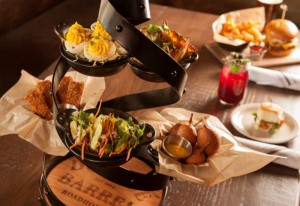 Photos: MGM Resorts International
Draft Cocktails
Chill out at Yusho Japanese Grill & Noodle House with a refreshing cocktail straight from the tap! Choose from six selections, including an unforgettable Gin and Tonic with house-made tonic or the Booze Cola, a delicious play on the classic rum and coke. Can't make up your mind? Sample all six with a flight.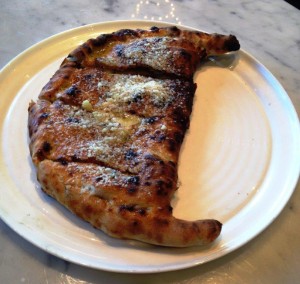 Photo: MGM Resorts International
Lobster Steamed Buns
Yusho's two pound (yes, two pound) lobster is the perfect dish to share among your family and friends. The Japanese-inspired restaurant spices it up with a take on traditional Asian steamed buns, including delicious accompaniments and fluffy buns to build a new kind of lobster roll. Chef Merges' cuisine showcases varieties of steamed buns, unique ramens, house-made pickles, fresh meats and desserts. Other signature menu items include the Logan Poser Ramen, made with crispy pork, egg, nori and cucumber; as well as the 2X Fried Chicken, created with spicy kanzuri, green tea and lime zest.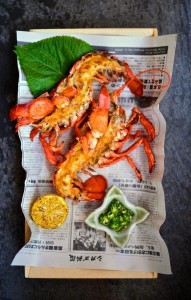 Photo: MGM Resorts International
Truffle Cheese Bread
Indulge in 800 Degrees Neapolitan Pizzeria's decadent Truffle Cheese Bread, heavily topped with the gooey goodness of three melted cheeses. The headliner, Bochetto di Tartufo is a blend of the finest Italian cheeses and laced with truffles, creating a mouthwatering appetizer to share or keep all to yourself.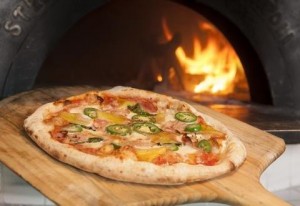 Photo: MGM Resorts International
Piccante Pizza
Mangia, mangia! This may be an Italian phrase but there are few things more American than ordering a fresh pizza to celebrate with family and friends. The Piccante Pizza at 800 Degrees is topped with soppressata, a hand-trimmed blended pork and fiery Calabrian chilies. 800 Degrees offers guests the experience of creating their ultimate, gourmet personal pizzas. After selecting a sauce and toppings from an assortment of vegetables, meats, cheeses and spices, the Neapolitan pizza is baked in an 800-degree wood-burning oven.
Photo: MGM Resorts International
Nostalgic Treats for Your Inner Child
BLVD Creamery offers fun sweet treats such as freshly made push pops with tons of flavor combinations, cookie ice cream sandwiches, cereal-flavored milk and more. Just because the temperatures are dropping, doesn't mean it isn't time for ice cream and other goodies.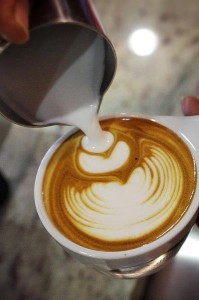 Photo: MGM Resorts International
Nutella Latte
Exhausted from walking The Strip all day? Step into Sambalatte for the ultimate coffee indulgence – a rich and creamy Nutella Latte. Made with the popular hazelnut-chocolate spread and a shot of espresso, this concoction is sure to perk you up and satisfy your sweet tooth. Order it over ice for a refreshing drink. The award-winning coffee shop exclusively roasts its own beans in-house in a virtual "Theater of the Coffee" featuring a state-of-the-art lab.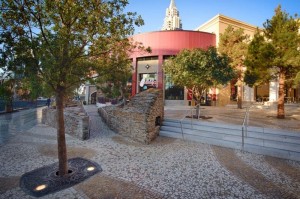 Photo: Al Powers
Along with delicious bites, there is a rotating roster of live bands, solo musicians, artists and street performers who take over the plaza daily from 3 p.m. until late at night.
The district also sets the stage for The Park – a social, dining and entertainment space between the Monte Carlo and New York-New York that will surround a 20,000-seat world-class arena by MGM Resorts and AEG. The project will be complete in Spring 2016.
The Monte Carlo features 2,992 deluxe rooms and suites including the exclusive HOTEL32 at the top of the resort. It is also home to the entertainment phenomenon Blue Man Group as well as a spa, pool and dining options that include the award-winning French cuisine of Andre's, The Pub, d.vino Italian Food & Wine Bar and Dragon Noodle Co. & Sushi Bar. For more information, visit www.montecarlo.com.