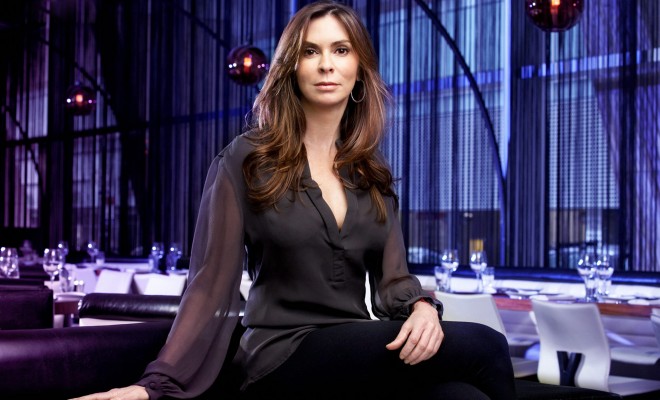 STEAK AND SIZZLE
|
A look behind the success of STK, The ONE Group and Celeste Fierro
By Rob Kachelriess
"STK is all about sexy, social fine dining."
Celeste Fierro isn't shy when describing the appeal of The ONE Group's flagship steakhouse. STK has eight locations throughout the world, including one in Miami that's in the process of being relocated in South Beach. The restaurants have crafted a unique identity that combines a modern steakhouse with a chic lounge heavy on high-energy atmosphere.
"We were one of the first groups to do the DJs in the restaurants and change the dining experience," says Fierro who is the co-founder and senior vice president of The ONE Group. "Ten years ago… no one even had a DJ in their restaurant. It was unheard of."
Fierro had a long history in event planning and marketing before she started The ONE Group in New York with her partner and CEO Johnathan Segal. The concept for STK took off by specifically appealing to women as much as men.
"The original vision was to basically take a traditional steakhouse and make it more inviting. Make it sexier (with) more female employees, not the typical maître d. We have women hostesses. We have a lot of women servers… We wanted to make it more geared towards a hipper vibe and inviting to more of a bigger demographic than just men going for business meetings."
After STK became a hit in New York, The ONE Group brought the brand to Los Angeles and then Las Vegas. Fierro says both locations are popular places to spot celebrities.
"In Los Angeles, we have a private garage where celebrities can pull in if they don't want to be seen by the paparazzi… We're really good about making sure we take care of them."
Other locations followed across the country. Each one is centered around a busy bar with a comfortable lounge to enjoy drinks before (and possibly after) dinner.
"Of course we want to turn the tables and get as many people as we can, but we also want you to stay and enjoy yourself," says Fierro who considers STK a one-stop-shopping destination for those seeking a fun night on the town. "The whole experience is about enjoying the atmosphere, being comfortable and being able to mingle and meet people."
The menu is divided into three sections with small, medium or large sized steaks and side dishes designed for sharing. While expanding across the county, chefs at each location are offered flexibility to create new dishes while about 75% of the menu is reserved for core items.
"In Los Angeles, It's definitely geared towards local vegetables," adds Fierro. "But in Miami where there's definitely a Cuban influence, we have a Cuban dish on the menu. In DC we have something that goes for that demographic."
New markets for STK in 2015 include Orlando, Chicago and Milan. The ONE Group is encouraged by its success overseas with two restaurant already in London.
Other concepts include Bagatelle which specializes in French cuisine and Cucina Asellina which offers Italian.
A concept that failed to find an audience was Heraea at the Palms in Las Vegas. It combined a sports bar environment with fine dining and closed in 2013 after being open for less than a year.
"Where Heraea was, there really wasn't a lot of foot traffic," explains Fierro. "It was a destination. So you had to travel to go there (from the Strip). And I don't think the hotel was a fit for us."
The ONE Group is more optimistic about a new idea called Rebel By STK that's in the works. It would offer a similar menu to STK but with a more casual atmosphere that could be a perfect fit in smaller markets.
"STK will probably do well in about 20 cities and that's about all you can do," she say. "Rebel by STK will be able to go into almost any demographic… You don't have to dress up. You can go in jeans and a T-shirt. You can dine there two to three times a week … (It's) going to be a little more casual."
For now, The One Group will continue to make its impression on the West Coast in Las Vegas with STK at the Cosmopolitan and in Los Angeles where STK and Bagatelle can be found next door to each other on La Cienega Boulevard. For more information: www.togrp.com