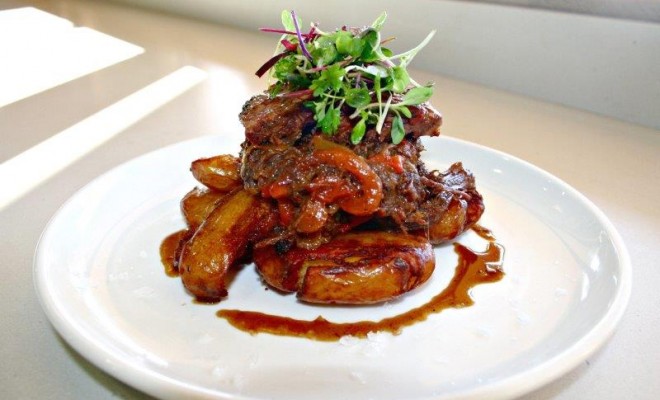 Perfecting the Craft
|
How CRAFTkitchen is filling a void in Henderson
For too long, Henderson was considered devoid of dining destinations, at least until Bouchon veteran Chris Herrin opened Bread & Butter which despite early acclaim, closed its doors in early 2014. It seems much has changed. During the 22 months intervening and reinventing the 10940 South Eastern Avenue location, Baker Jaret Blinn has been hoping to learn from his predecessor's mistakes and integrate with the land and community around him with a restaurant dubbed CRAFTkitchen.
A California native by birth whose interest in pastry began at The Ritz Carlton San Francisco under the tutelage of Chef Michel Willaume as he trained for The Coupe du Monde in France, Blinn is now a longtime resident of Nevada. His work has gone overlooked by many due to his time in corporate kitchens and as successful as that time has been, Jaret says CRAFTkitchen was born from a belief in the people of Henderson.
"It was time…I was comfortable…but something was missing," he says. "I needed a new challenge… needed a change and I have always thought my neighborhood needed something new and fresh."
Part passion project, but also a choice made to assure more flexibility for a man with a wife and children, CRAFTkitchen fills a strip mall spot re-imagined from its previous inhabitant, with steady hours of 7 a.m. to 3 p.m. seven days a week. With clean lines plus a subtle natural vibe imparted by quotes and plant life decorating the wall, the experience starts with a warm welcome at the door, a youthful yet adept front-of-house staff and nearly everything about the place speaking to its motto of "Local. Inspired. Eats."
Noting that his focus is on quality over quantity but clearly not satisfied with simplicity having so much skill to share, a first look on entry shows no less than two-dozen pastries. Each one is crafted by Jaret starting at 2 a.m. with baking extending late into the day and not a single one less than excellent.   A moist pumpkin muffin is particularly thrilling while the golden kouign amann (French butter cake) achieves new levels of intrigue in chocolate or house-made jam amidst the flaky pastry sheets.
Taking time to do things right, everything from produce to coffee is sourced as locally as one can. Those who love coffee will be happy to know beans are sourced from Colorado River Roasters with each cup brewed to order. The fruit flavors are robust with a smooth finish and each sip good on its own, though all the better when paired with breakfasts such as toothsome oats beneath a crackling caramelized top, a brined turkey benedict served with a sidecar of citrus hollandaise or juicy fried chicken atop crisp waffles kicked up by pickled peppers and pure maple syrup.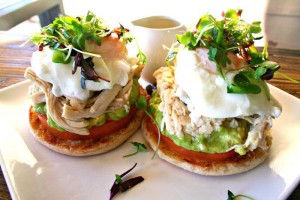 Showing a similar sort of creativity to Glutton in downtown Las Vegas, the comparisons are not unrealistic given Chef Blinn's time with Bradley Manchester behind the stoves at the Red Rock Resort. Patrons fancying something a bit more lunch-like would be encouraged to try any of the salads or sandwiches that vary depending on the season's best ingredients. Those looking for something heartier would be well served by a Shepherd's Pie that replaces traditional lamb with chorizo for a delicious and spicy kick.
Getting back to his roots with a wide arrange of desserts – cookies, bars, brownies and cakes – all gleaming like jewels under the lights of a large glass case, the "best choice" amongst CRAFTkitchen's bounty of sweets is essentially whatever strikes the diner's fancy. Each delicacy made that day is exemplified by a chewy oatmeal cookie studded with fruit, cocoa-rich yet fluffy gluten-free brownie or a carrot bar that ratchets up taste and texture with tangy cream cheese frosting anchoring green candy leaves and buttery toffee shards.
One-upping most in ingredient quality and thinking well outside the box in terms of the restaurant's scope and design, Jaret is optimistic about the future.
"Anything is possible. I just want to do whatever it takes to keep delivering fun and creative items to our neighborhood."
Whether one is indeed from Henderson or the other side of the valley in Summerlin, there is little doubt even early on that CRAFTkitchen is sure to "keep guests guessing so that they have to come back again and again to see what's new for themselves."
Photos: CRAFTkitchen
Dr. Michael Uzmann is a native Ohioan currently practicing in Las Vegas. A lifelong Los Angeles Kings fan and frequent visitor to the City of Angels, or wherever has good food with an NHL Arena, Dr. Uzmann is the owner and publisher of endoedibles.com. He can be reached at uhockey@yahoo.com with questions, comments or tips on where to visit next.