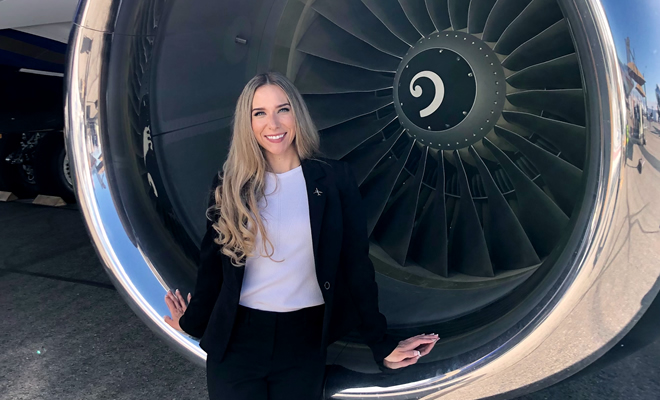 Natalie Rodríguez
|
VVIP Aircraft Interior Design
TELL ME ABOUT THE MOMENT BEING AN AIRCRAFT DESIGNER WAS WHAT YOU WANTED TO BE.
I knew that I wanted to design aircraft interiors from the time I was 16 years old – I was speaking with a friend in high school on what we wanted to be when we grew up, and I mentioned I wanted to be an interior designer. I grew up as a dancer and also really enjoyed sketching, painting and visual arts in general, so I figured interior design might be a good fit. My friend replied, "oh, my aunt does that, for airplanes." The moment she told me this, I knew this was what I wanted to do!
When I first got my design internship at an aircraft completion center (Gore Design Completions, now GDC Technics), I had no idea what to expect, and I was eager to learn and absorb all that I could. To my surprise, I had stumbled into the world of Boeing and Airbus aircraft specifically tailored for private use – mostly Head of State (HOS), charter and corporate. The first VVIP aircraft I ever stepped foot in was an Airbus A340 for an HOS in the Middle East. As we were walking through I was so overwhelmed and enamored with all that was around me, and it was in this moment when everything clicked and solidified for me.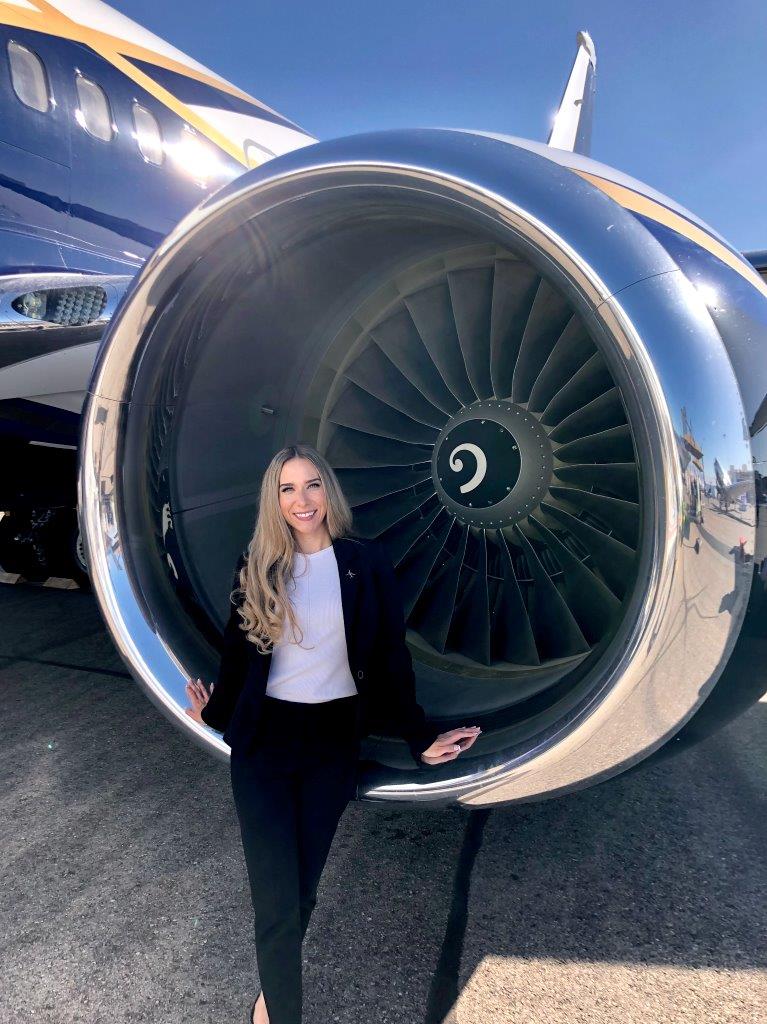 TELL ME ABOUT YOUR AVIATION AND DESIGN HISTORY AND WHAT BROUGHT YOU TO CITADEL?
I'm originally from San Antonio, Texas, and I earned my Bachelor of Arts in Interior Environmental Design over there as well from the University of the Incarnate Word. It has been an honor and great privilege to have the opportunity to work with three different aircraft completion and modification centers throughout my career, presently Citadel Completions based in Lake Charles, Louisiana, and also AERIA Luxury Interiors and GDC Technics based in San Antonio. Aircraft interiors is where my heart is, although I also have experience working with high-end residences, as well as commercial design with a focus on business interiors.
I'm glad to have found myself at Citadel in the midst of the Pandemic. I was with AERIA from 2017-2020, and when COVID changed the way of our world, the company ceased operations. Citadel was thankfully looking for a designer at that time – there aren't many completion centers that specialize specifically in Boeing and Airbus for private aircraft, which is my bread and butter, so it was a smooth transition.
Transportation interiors, specifically in the case of VVIP aircraft, are so different from any other kind of interior with their own special codes, standards and procedures, and this is one of the things I enjoy about my job the most. It's like solving a puzzle – to address the needs of the Customer and achieve an elegant interior that they will absolutely love, while abiding by Federal Aviation Requirements (FARs) for their safety.
Each project is highly individualized and tailored to The Customer's specific requirements and overall mission of the aircraft. In the case of VVIP narrow and wide-body interiors, common requests include bedrooms with ensuite lavatories inclusive of showers, a dedicated staff and security seating area, spaces for dining and lounging, and dedicated galleys for culinary activities. Some other requests that are not uncommon include accommodations for fitness and wellness equipment, a bar area for entertainment, a media lounge / theater, in-seat massage capabilities, and steam functions in the showers for a spa-like experience. These are only a few examples of the level of customization that is possible.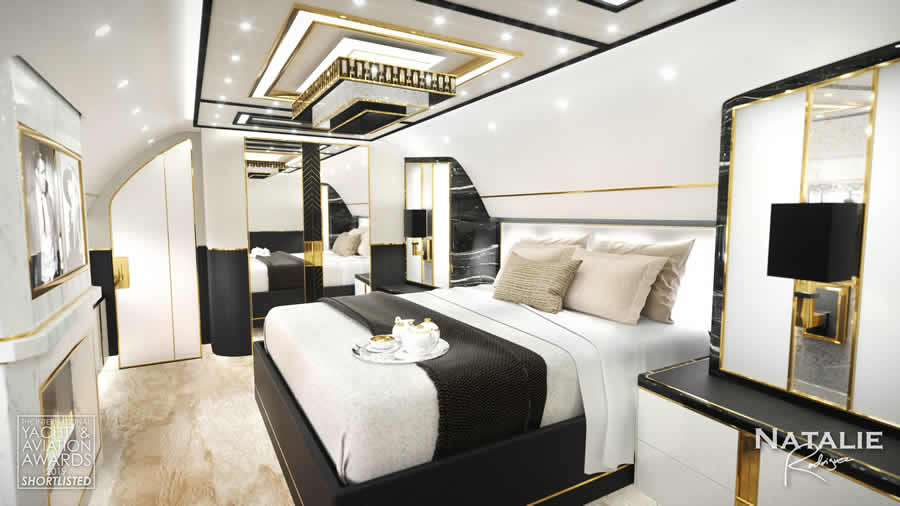 A focus on health and wellness has been trending for aircraft interiors in recent years. For example it's not unheard of to have requests for a treadmill or stationary bike, usually in their own dedicated wellness space. Back in 2019, one of my concept interiors focused on this, with the Master Suite including a dedicated Wellness Cabin situated as the heart of the retreat. This BBJ MAX 8 concept was also shortlisted for the International Yacht and Aviation Awards this same year. This project has a special place in my heart – the awards ceremony in Venice was such a dream!
WHAT'S YOUR BEST STORY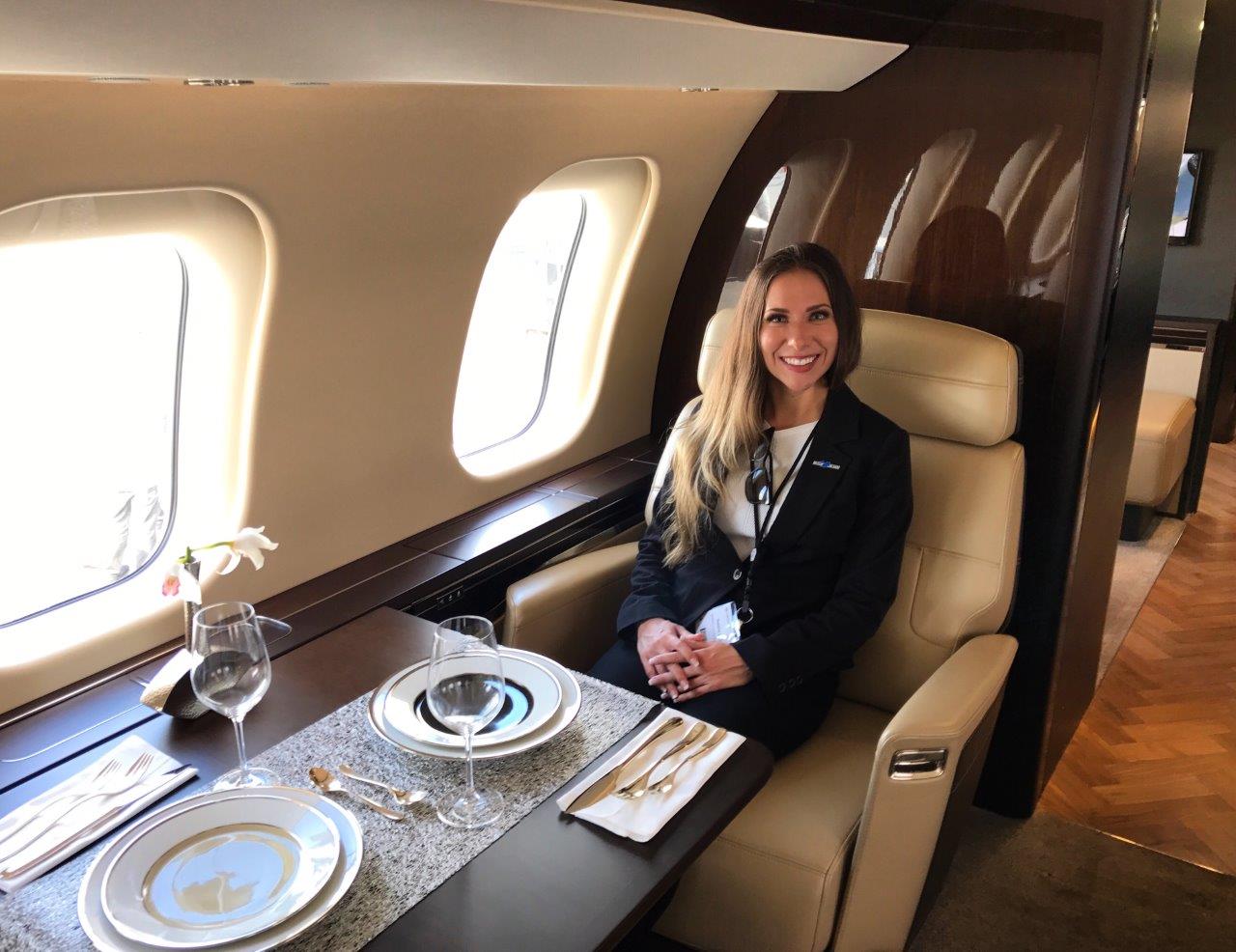 In 2020 we were tasked with an immediate need to set up a design showroom at a sister location. We pulled this off by building a state-of-the-art satellite showroom, completely new, in just four days with intent to host a specific VVIP customer, as well as future clients. This was a completely new build with the integration of the finest fabrics, leathers, custom carpets, precious stone, marble, and wood veneer, along with cashmere-soft goods, china crockery, crystal stemware, and more. The showroom still stands today and is utilized frequently for customer meetings. In general, there are so many interesting things that happen in our day to day that we are unable to disclose or talk about, but this is one ambitious effort that was achieved, and makes me very proud to have been part of it.
You can follow Natalie's adventures Natalie Rodriguez
By Kate Arabi