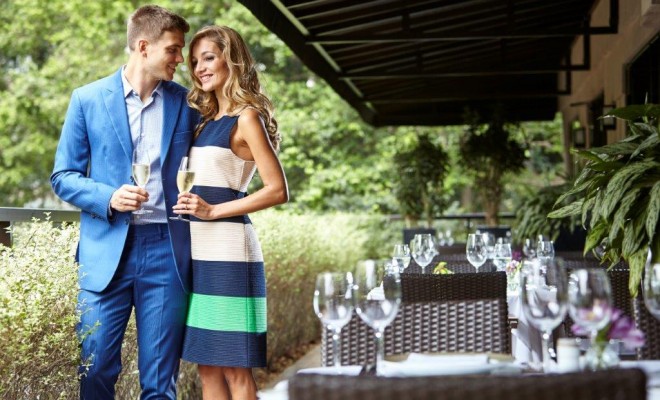 Finding Love in the New Year
|
A Guide to Dating in 2016 with Brooke Lewis
"I get to combine conversation with great champagne, love, dating and chocolate kisses."
Brooke Lewis is excited about returning to the Indulge L.A. Chocolate Festival and Pastry Show, where she will be a special guest host for the second year in a row.
The event takes place in the afternoon on December 27 at the Olympic Collection Banquet Center in Los Angeles.
Lewis believes it's the perfect place to bring a date.
"There's so much sexiness around food and wine, especially around the holidays," she says. "I really believe that a couple that's comfortable enough to pig out together and indulge together in every way is a couple who is on their way to an unconditional relationship."
The Hollywood dating expert, life coach and actress is winding down a busy year. She recently wrapped up the first season of her online TV dating show Breaking Dating, appeared on several talk shows including The John Kerwin Show which airs nationwide on DirecTV and has been a dating expert on Hulu's Pop Trigger. She also has clients and speaking engagements that take her to Las Vegas and throughout Southern California.
While Lewis has plenty to celebrate, she says the holidays can be a tough time for dating.
"Everyone gets very melancholy," she says. "We look at the year that's passed. We look at the future to come and (we make) New Year's resolutions where people choose to move forward."
Lewis says it's especially tough for men who may be casually dating a woman but now have to grapple with questions about buying Christmas gifts or bringing a "semi-girlfriend" home for the holidays to meet family members.
"It's very confronting and you're often pushed into making a choice."
On the flip side, some singles are often too eager this time of year to find romance.
"People will jump into a super casual relationship right around Christmas time," says Lewis, who notices a lot of single people don't want to be alone around the holidays, especially if they have friends who are in solid relationships and don't want to feel left out.
"I've seen it too many times where people just want a date for New Year's," she continues. "And what happens quickly, usually fizzles out quickly as well."
Lewis says in some cases, it's best to date casually while filling the void of loneliness by spending time with true friends and family members.
As a life coach and dating coach, Lewis is able to keep her clients accountable and on track with obtainable goals as they head into the New Year.
"It's not realistic to join six dating sites on January 1 and be married by March," she says. "It's possible. But it's not realistic."
That's not to say online dating can't be effective. However, Lewis warns people to be cautious about using apps like Tinder, in which profiles are based on photos and can be "swiped" off screen in one direction to be saved for later or in another direction to be discarded quickly. She says users, especially women, often mistake the instant intimacy of an online hookup for true intimacy.
"Online dating and app dating has become a real way to just have a quick, easy hookup and unless that's what you're looking for, you have to be smart about it."
Lewis says there is nothing wrong with a new quick relationship but warns that every choice comes with a consequence.
"If you want to go out, and you want to have a quickie and have a hookup and go on Tinder that night, and take a guy home and have sex with him, more power to you," she continues. "(But) know what you are choosing and know that the chances of it evolving into something real are probably slim."
She says the best bets for online daters seeing a long-term relationship in 2016 are the old standbys, such as Match, eHarmony and JDate.
"You know if someone's paying to be on the site, they've got an agenda, they've got interests and they're committed. Some of the sites have a very detailed entrance process, like eHarmony, where you're taking the time to fill out pages and pages of information so they can authentically match you up.
"When it's just an app and you don't know anything but a person's photo and name, what do you think they're looking for?"
Lewis says she's done her homework and tried all the popular dating sites, including the free ones which are naturally the most popular.
"I've had relationships from Plenty of Fish and OkCupid but with free sites there are so many people on them, (so) they're really not well regulated. You're just bombarded with messages every day and there is no system of gauging who is really a good prospect for you and who isn't."
In a surprise twist, Lewis actually met her co-host for Breaking Dating through an online dating site.
"We hit it off as best friends," says Lewis of Michael Bronte. "So many of our late night chats would turn into conversations, laughing our butts off, about our dating experiences. He had radio and TV experience in the past… (so) he was the perfect person to partner up with."
The show just wrapped up its first 13-episode season with Zina Media Group's TradioV and is currently entertaining offers from different outlets for a second season.
For archived episodes of Breaking Dating and further information on Brooke Lewis, visit www.beyouandbefearlesslifecoach.com
To buy tickets for the Indulge L.A. Chocolate Festival and Pastry Show, visit www.indulgela.net
Rob Kachelriess is the Managing Editor of Vegas2LA magazine. He's also a News Producer for KVVU Fox5 Las Vegas and the Las Vegas writer for Thrillist.
Twitter: @rkachelriess
Email: robertkachelriess@yahoo.com