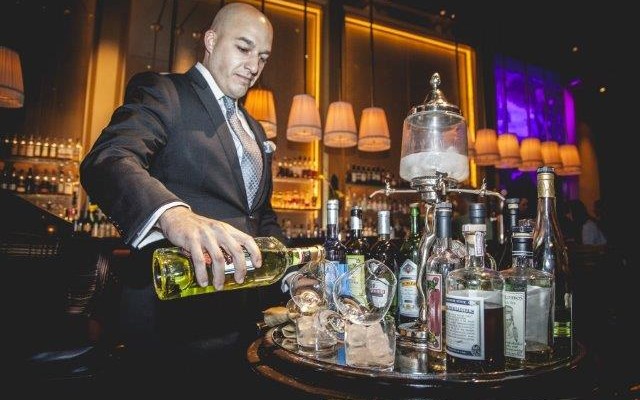 Can't Decide Where to Eat on the Vegas Strip? Do This
|
There are so many awesome restaurants in Las Vegas, it's hard to pick just one. Especially on the Strip. So let's say you're in town for just one night… what do you do?
Give Lip Smacking Foodie Tours a call. Their "Savors of the Strip" walking tour is the best bang for your buck when it comes to dinner in Vegas. You're sampling not only food, but entire restaurants.
Here's how it works: A tour guide will take you for a walk along the Strip while hopping in and out of different casinos and checking out some of their best restaurants. With each stop, you'll get legit VIP treatment with prompt seating at the best tables in the dining room while one signature dish after another is dropped in front of you. Along the way, your group will take a few surprise detours and learn a thing or two about Las Vegas.
On any given tour, you and your buddies/girlfriend/stranger-you-met-at-the-club will check out five of the following seven joints…
Where is it? In the outdoor courtyard in front of the Monte Carlo.
Why it's awesome: This ramen house got its start in Chicago and spread to Las Vegas with cuisine inspired by Chef Matthias Merges' travels to Japan.
What you'll eat: House pickles with lotus root, ricotta-filled garlic dumplings and the best Asian twist on chicken wings you'll find in Las Vegas. You'll also get a bowl of Yusho's signature Logan Poser ramen.
Bonus perk: Two draught cocktails are included, so you may find yourself alternating sips between a Paloma and a smooth Gin & Tonic.
Why you should come back again on your own: A deep and diverse sake selection and a sampler plate of "all the skewers" with bites of chicken, duck, wagyu ribeye and tofu.
Where is it? Tucked inside the Aria, just off the casino floor.
Why it's awesome: The Mexican cuisine is so good, it wouldn't be out of place at a fine dining restaurant, but this spot offers a lively atmosphere with a front row seat that's perfect for people watching.
What you'll eat: Enchiladas stuffed with shrimp, enchiladas stuffed with Maine lobster and enchiladas stuffed with Dungeness crab. You're getting enchiladas.
Bonus perk: Check out the Aztec wood carving on the wall that was made in less than six weeks with a chainsaw.
Why you should come back again on your own: The bar features dozens of the world's finest tequilas. Believe it or not, Margaritas actually taste better when made with the good stuff.
Where is it? On the second floor of The Cosmopolitan next to rowdy steakhouse STK.
Why it's awesome: Greek food doesn't get much better than this, whether it's in Las Vegas or anywhere else in the world, including Greece itself. The seafood alone is worth the trip, with an ultra-fresh selection flown in daily.
What you'll eat: A tower of lightly fried zucchini, eggplant, tzatziki and cheese; grilled octopus; and a perfect Greek salad with feta cheese and tomatoes so good, DJ Tiesto raves about them.
Bonus perk: You'll get an up-close look at the fresh seafood – sometimes still alive – sitting on ice and on display in the dining room. See that friendly lobster waving at you and smiling? That will be dinner one day.
Why you should come back again on your own: We just told you. The lobster.
Where is it? On the second floor of the Aria, which is slowly curating what could be the best lineup of restaurants in one spot, including John Georges Steakhouse, brand new Italian spot Carbone and the soon-to-open Herringbone.
Why it's awesome: The latest of four Las Vegas restaurants from Chef Michael Mina offers up high-end French cuisine in an energetic dining room where pretty much everything tastes better with chartreuse butter.
What you'll eat: Escargot in pastry shells, orange-glazed duck wings and the best French Dip sandwich you'll ever try in your life.
Bonus perk: While wondering through the Aria, take a look at that crazy piece of art behind the check-in desk. The 87-foot long structure perfectly matches the shape of the Colorado River.
Why you should come back again on your own: It's not just in the butter. Bardot Brasserie has a serious selection of chartreuse – a distilled alcohol made from herbs, plants and flowers by monks in a remote region of France. Pours range from $15 to $250.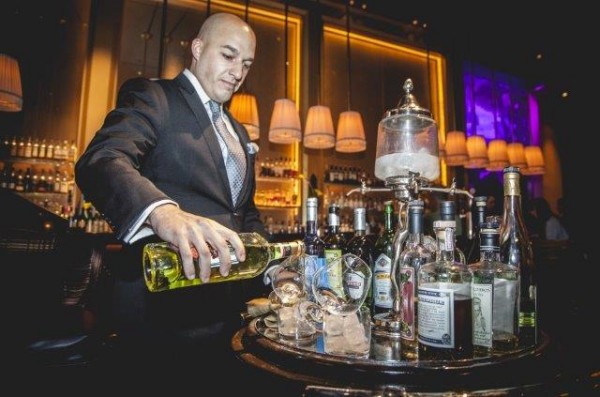 Where is it? Downstairs from Bardot Brasserie, on the ground floor of the Aria.
Why it's awesome: Fresh, seasonal farm-to-table food on an ever evolving menu, courtesy of Chef Shawn McClain, not to mention a collection of absinthe that's among the largest in the world.
What you'll eat: Foie gras prepared like creme brulee, roasted veal sweetbreads and Alaskan king crab.
Bonus perk: If you shell out a few extra bucks for the drink pairings, you'll get to enjoy some Russian absinthe prepared tableside and lit on fire. Repeat: They will light your absinthe on fire.
Why you should come back again on your own: To go through the rest of the absinthe cart and munch on the 36 Hour Short Rib.
Where is it? On the second floor of The Cosmopolitan, around the corner from the massive three-level Chandelier bar.
Why it's awesome: The menu is heavy on tapas designed by Spanish chef José Andrés, but the centerpiece of the restaurant is an open-fire wood grill with the sole purpose of cooking authentic paella in massive amounts.
What you'll eat: Endives wrapped around goat cheese, oranges and almonds; traditional Chicken fritters served in (yes) a shoe; and of course, the paella. You'll know it's ready when the bell rings.
Bonus perk: You'll get to try a bonus dish of "liquid" olives that will pop in your mouth from é by José Andrés, the restaurant-within-a-restaurant next door that seats just eight people and only takes reservations first-come-first-serve exactly one month in advance.
Why you should come back again on your own: There are two different octopus tapas to wrap your tentacles around. One comes boiled with potatoes, pimenton and olive oil, while the other is grilled and comes with onion puree, cherry tomatoes and garlic oil.
Where is it? On the ground floor of the Paris casino, with a patio that spills onto Las Vegas Boulevard while offering a nice view of the Bellagio fountains across the street.
Why it's awesome: This is where you'll come for dessert, with sweet creations made with the restaurant's own bean-to-bar chocolate program. Nobody else in Nevada makes single-origin chocolate quite like this.
What you'll eat: A tasting of desserts that includes Aztec Cake, Espresso Torte, chocolate pudding and Mille Crepe Cake.
Bonus perk: You'll get a tour of the factory in the back and see how cocoa beans from places like Tanzania and Madagascar are blended with palm sugar to create perfectly crafted bites of chocolate that are meant to be savored like wine (and not wolfed down like a Twix bar).
Why you should come back again on your own: As awesome as the chocolate is… there's more than dessert on the menu. Sit down for the grilled king salmon, spinach and artichoke dip or even a mean serving of chicken with apple and cheddar waffles.
That's just the tip of the iceberg. Lip Smacking Foodie Tours also has a downtown food crawl and another Strip tour in the works that will feature celebrity chefs like Gordon Ramsay and Giada de Laurentiis. If you own a phone, save this number: (888) 681-4388.
Rob Kachelriess is the Managing Editor of Vegas2LA magazine. He's also a News Producer for KVVU Fox5 Las Vegas and the Las Vegas writer for Thrillist.
Twitter: @rkachelriess
Email: robertkachelriess@yahoo.com