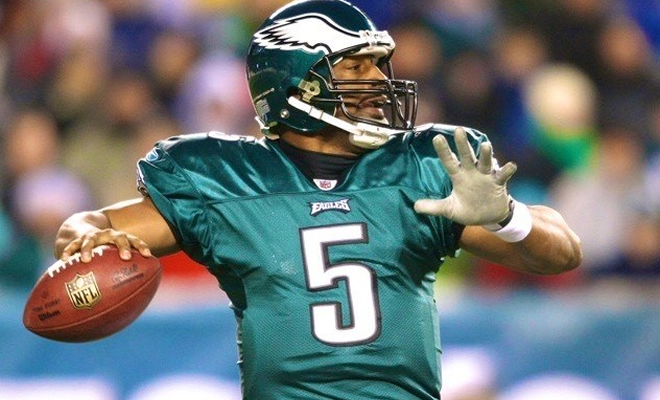 Donovan McNabb
|
Since retiring in 2012, Donovan McNabb has built an impressive legacy through his significant
charitable efforts that matches his extensive accomplishments on the gridiron. The 6X NFL Pro
Bowler's philanthropic perspective is rooted with a "generosity-first" approach, which allows him
to support and donate to a variety of initiatives that speak to his heart.
Donovan started The McNabb Foundation which allows himself and his family to express their
passion for charitable work. The McNabb Fund has raised millions for various organizations
over the years and continues to make an impact on the community. The McNabb Foundation
has pledged support to raise awareness of diabetes, has raised hundreds of thousands of
dollars for the American Diabetes Association and provided scholarships to many students. Also
in October 2009, the couple announced a partnership with Virtua hospital where each of their
four children was born. The partnership began with a six-figure donation from the McNabb's to
help with the construction of the new NICU at the Virtua Voorhees replacement hospital, which
opened in Spring 2011. In addition, the family committed to helping raise $2.5 million for
additional funding for the project. The completed unit was named The McNabb Family Neonatal
Intensive Care Unit in honor of their dedication and commitment.
As many nonprofits and social services nationwide experienced hardship with scant resources
and funding in 2020, McNabb was able to step up and expand his charitable support to provide
meaningful relief for communities in need.

The base of McNabb's 2020 philanthropic work is the Caris Sports Foundation, an organization
founded by Raquel McNabb, Donovan's wife. Through being an ambassador for Caris, Donovan
is dedicated to removing the socioeconomic barriers tied to participation in youth club athletics.
The foundation's work was just the beginning of charitable efforts for McNabb in 2020. He was
also involved in providing holiday meals for communities in Arizona and Chicago, working with
the Salvation Army in Chicago and training quarterbacks in his downtime in Arizona.
"Playing in the NFL was undoubtedly one of the highlights of my life not just because of the
memories on the field but because it has provided the opportunity to connect with so many
different people and organizations off the field," said Donovan McNabb. "There is no
"one-size-fits-all" approach to generosity and everyone has a different need – whether that's to
be more food secure or developing much-needed skills to amplify employment opportunities.
I've come to more fully understand relief comes in all forms and I'm truly blessed to be able to
provide specific support to various communities."

McNabb continues to grow his philanthropic footprint, most recently launching The QB Legacy,
a national nonprofit organization featuring an all-star roster of instructors dedicated to assisting
those that played the Quarterback position from field execution to physical and mental
development. Organization membership is open to those that played quarterback for a college
program in the NCAA (Divisions I, II, III), thE NAIA, NJCAA or NCCAA. The organization plans
to host an event at Quarterback House in Tampa at 9am on February 5th and February 6th.
McNabb's charitable efforts have positioned him as a leading personality at the forefront of
creating meaningful cultural change. With his family beside him his post NFL career has been
about giving back and making a difference in as many communities as he can. Being a father,
teacher, mentor and philanthropist has given Donovan purpose post NFL career. He strives to
continue his efforts nationwide and truly make a difference culturally.