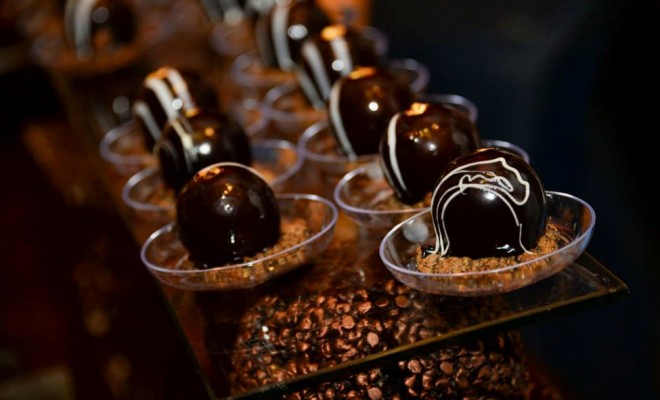 Business in Las Vegas
|
LA VS. VEGAS: Crossing the Great Divide with Alan Semsar
By Rob Kachelriess
"I want to make millions so I can make a really big difference for a lot of people in my life."
Sometime it's hard to tell if Alan Semsar is promoting culinary events or running for office.
"I want to help people who can't have the things they need, people that can't afford food, people that can't afford shelter or medication. I want to be there for them."
Alan Semsar is holding court at STK in Las Vegas. He's sitting at a table large enough for about six people but there's at least eight crammed in… listening carefully, smiling broadly and paying close attention to what the CEO of Barcelona Enterprises has to say.
Semsar loves dining at STK. It's one of his favorite restaurants in Vegas. But as much as he enjoys indulging in the best cuisine in the world, he loves providing it even more.
That's where Barcelona comes into play.
"Every time I eat a great meal, I just think about the people who don't have it and that's one of the reasons I give so much," he says in between sips of champagne and bites of bone-in filet.
Photo: Wayne Lu Photography
Semsar has been organizing and promoting food and wine events for years. He's based in Southern California but to be clear, he prefers the business environment of Las Vegas.
"In Los Angeles, it's hard to do business. They make it very difficult for a small business to operate. Clark County and Las Vegas make it so easy to operate. It's such a welcome change and I love doing business in Nevada."
One example is the permit process for holding major events.  Semsar says in Los Angeles, it's extremely difficult and he constantly has to deal with red tape and politics.
Photo: Barcelona Enterprises
"In Vegas it's all about – you want business, let's make it. Let's make money together. In California, it's like – what can (the state) take from you?"
So are food and wine events in Las Vegas more profitable than those in LA?
"They are more profitable… and that means we're giving more money to charity in Vegas than anywhere else."
Semsar's events always help a good cause. The St. Jude Children's Research Hospital, the James Beard Foundation, Three Square Food Bank and the Nevada Ballet Theatre are just a few of the organizations to benefit in recent months.
As much as Las Vegas has opened its doors to Semsar, he still considers the Los Angeles area home and loves to promote events in Southern California.
The upcoming Calabasas Malibu Wine & Food Festival will serve as a fundraiser for Rock Against Trafficking. The nonprofit organization has secured the support of big name musicians such as Aerosmith, Julian Lennon and Slash to raise awareness and money to battle human trafficking and child slavery.
"A lot of people don't realize how often it happens right here in the Unites States, especially in Nevada and California," says Semsar. "This is a serious problem."
As for the food and drink, the festival will be a truly all-inclusive affair.
"We've got the best chefs from Vegas and LA coming. We've got some chefs from New York, from Atlanta… all over the place. The best food in the world – we're bringing it there."
It will take place June 20 and 21 at the Calabasas Country Club.
"I am from that area so I really want to do stuff there and contribute to the community. I live near Malibu so that's why I want to do things in Malibu and Calabasas as well as Beverly Hills and other parts of Southern California.  I want to do business where I live."
Semsar can't hide the enthusiasm. He's pumped up and flying high – especially coming off the success of his most recent major event, the Las Vegas Chocolate Festival & Pastry Show. The tasting was held in April at the Shops at Crystals inside CityCenter… taking up two floors of the high-end shopping center.
Semsar says the environment was perfect.
Photo: Al Powers
"We had an amazing event in Las Vegas thanks to our partnership with MGM Resorts International who owns Crystals and the Aria next door as well as other properties. How could you go wrong? Chocolate, pastries, alcohol, champagne… It was a fantastic event."
Photo: Al Powers
While the events are rewarding, they aren't always easy.
"Some of these things are a logistical nightmare because you have two-hundred different moving pieces. You have a hundred different chefs and fifty different liquor companies all trying to come together with seven Barcelona staff members working to make it happen."
Photo: Barcelona Enterprises
Now that he's looking ahead to the Calabasas Malibu Wine & Food Festival, Semsar is eager to welcome some familiar faces.
"I'm excited because the Venetian & Palazzo is coming down again. They're coming from Las Vegas – the culinary capital of the world. I can't wait to see what they're going to bring. They always pour the best champagne."
"Celebrity Cruises is going to come. They pour fantastic wines. They actually hand pick the best wineries in California and they bring the winemakers with them to the events. So it's just a great experience to go by (their booth) and drink… and talk to them about the wines they're pouring."
In the months to come, Barcelona will be staging more events in the Los Angeles area as well as Las Vegas. They include the Beverly Hills Wine & Food Festival in November, a series of Oktoberfest events in Los Angeles and the Las Vegas Wine & Food Festival at the Red Rock resort in September. He's also planning a mammoth beer festival that will take place by the end of the year over multiple days at a major Vegas property.
Semsar is proud of his efforts and the care put into each event.
"When you come to our events, the chefs are actually approachable. At other events, the chefs are hiding in the back and leave after ten minutes. At our events, the chefs are hanging out all night and going to the after-parties."
 The Calabasas Malibu Wine & Food Festival
Friday June 20 and Saturday June 21
The Calabasas Country Club
Tastings of wine, beer and food to benefit Rock Against Trafficking
Tickets and information: malibufoodandwinefestival.com
Rob Kachelriess is the Managing Editor of Vegas2LA magazine. He's also a News Producer for KVVU Fox5 Las Vegas and the Las Vegas writer for Thrillist.
Twitter: @rkachelriess
Email: robertkachelriess@yahoo.com