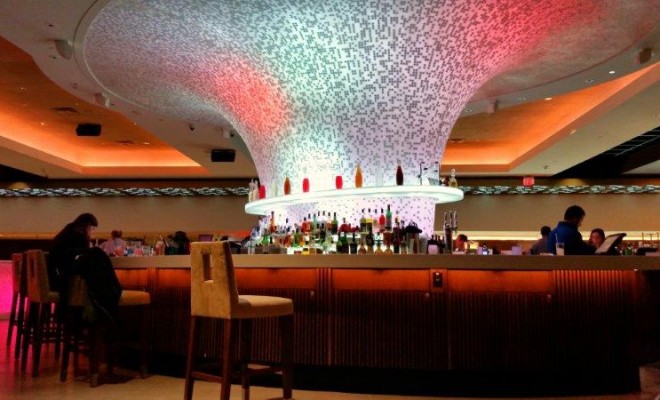 The Best New Bars of the Year in Las Vegas
|
Your New Favorite Hangouts
The Best New Bars of the Year in Las Vegas
Now that 2014 has come to a close, it's time to celebrate 2015 with some of the best beer, wine, shots and cocktails around. Here's a look at some of the best new bars to open their doors over the past year in Sin City. Bottoms up!
ALIBI Cocktail Lounge
Aria
This big budget bar and lounge promises a stylish atmosphere while serving up craft cocktails like a chocolate-infused Old Fashioned 24/7. It's just steps off the casino floor and could be the best place to hang out now that Haze nightclub has shut down.
Bound by Salvatore
The Cromwell
It seems like there's a million reasons to live the new Cromwell and one of them is Bound By Salvatore. It features a creative drink menu by master mixologist Salvatore Calabrese that includes the Breakfast Martini… the best evidence that first-thing-in-the-morning is the perfect time for a cocktail.
Whist and Due & Proper
Green Valley Ranch
You get a two-for-one deal with these two brand new spots side-by-side at the District in Green Valley Ranch. Go for Due & Proper for the vibe of a traditional British pub type and then head next door to Whist for a relaxing atmosphere that's perfect for ordering house-made ravioli with goat cheese and other items off the dinner menu.
Rebel Republic
West Valley
This new bar offers more than 50 beers on draft through a system that makes it look like they're all coming out of the same pipe. And as the name suggests, it's the perfect place to enjoy Rebels games… with a crowd that loves sports and beer as much as you do.
3535
The LINQ
The new lobby bar at The LINQ hotel has more than 30 housemade infused vodkas… which offers up an opportunity for some creative drinks like the SushiTini. It sounds a bit odd but the ginger wasabi flavor somehow works.
Blind Pig
Off the Strip
The Blind Pig is located on the ground floor of the Panorama Towers and offers up atmosphere and a menu so good, you'll want to rent a condo upstairs. Top choices include a selection of flatbreads, "Spicy Tuna Inside Out" and other appetizers that would fit in with the best restaurants in Las Vegas.
Franklin
The Delano
In 2014 THEhotel at Mandalay Bay was given a makeover and transformed into the Delano in honor of our nation's longest-serving president. The features include a South Beach-style lobby bar and lounge called The Franklin… also named after who-know-you. The DJ may be a little loud but offers the perfect atmosphere for making friends and sipping on drinks like The New Deal (see a trend here?) made with cognac and lemon juice.
Distill
Southern Highlands
Distill offers up the perfect South Valley locals hangout with a modern atmosphere, whiskey-infused cocktails and a creative selection of bar food that includes burgers, pizzas and a breakfast menu that could be the perfect hangover cure.
BLVD. Cocktail Company
The LINQ
This piano bar and lounge has an open air seating area, is just steps away from the High Roller wheel and features drinks like the Kentucky Dram made with Woodford Reserve and black tea spiced syrup. It's also one of those places on the LINQ where you'll actually walk inside and spend some cash instead of just window shop.
Umami Burger, Beer Garden and Sports Book
SLS Las Vegas
There are more than a few good bars at the new SLS Las Vegas, including the Monkey Bar in the lobby and the Bazaar Casino next to Bazaar Meat. But make sure you check out the outdoor beer garden for a few drinks and a ground-floor view of the Stratosphere tower. As the name suggests, it's connected to Umami Burger and the sports book so there's plenty of stuff to keep you busy while chugging drafts.
Art Bar
Downtown Grand
Although it technically opened at the end of last year, Art Bar made its mark in 2014 for a sweet selection of drinks and… well, plenty of framed artwork hanging up. But the decorations are on the ceilings instead of the walls which alone makes it cool enough to be one of the best hangouts downtown.
Rob Kachelriess is the Managing Editor of Vegas2LA magazine. He's also a News Producer for KVVU Fox5 Las Vegas and the Las Vegas writer for Thrillist.
Twitter: @rkachelriess
Email: robertkachelriess@yahoo.com