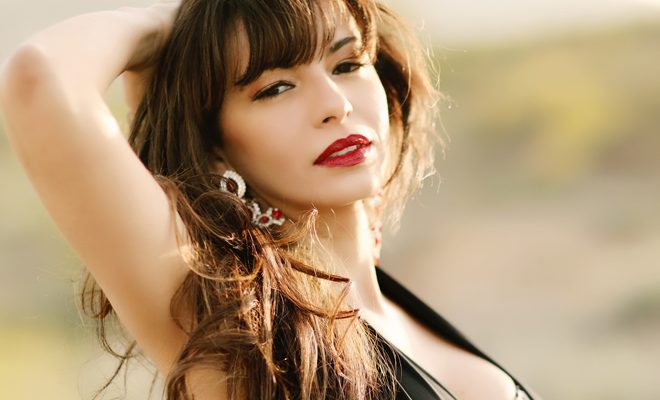 Acting, Trending and Branding!
|
How actress Carolina de Athey is becoming a brand.
By Sandra Smith-Doghmi
With two films just completed, Relentless Love by Menetie T.Ejeye and Together by A.W Scott which was also shot in 2019 things are busy for the actress Carolina De Athey.
She was one the Hosts for the 2019 UMFF, Universe Multicultural Film Festival Awards Ceremony. The Festival promotes cultural exchange through Films from All over the world.
She than started three Collaborations launching Impressive Brand Campaigns in the Influencers World leaving what I like to Call a "Trade Mark". Chic NYC a fashion New York based Store. Bombshelaa that focus in Jewelry and accessories. And then she joined Amazon which doesn't need any introduction. She has started with a list of Beauty essentials! It seems to us, Carolina likes to do things in a certain way and she is now starting to be perceived as what we like to call a "brand"! A one stop shop! She can act, sing, model, write and Influence!
Hollywood was a place where we would look to find "triple threats". This seems to be changing. It looks like women that are upcoming stars may just have to be more then that!
Let me start asking you.
What was your first vision when you said to yourself, "I'm moving to Hollywood" from Chicago that is. What road did you think you would end up on career wise?
My vision has always been the ultimate goal of any serious artist. I'm in for the long run. I love acting and storytelling. But I do love it for the right reasons and so I'm becoming more and more picky. I do also love music and how it can transcend and translate to so many people even if they don't speak the same language. As for storytelling, films and TV shows can also transcend and be relevant to any culture. For one, it lasts forever and the right film can plant seeds and open people's minds to better understanding in so many subjects. I think Brad Pitt does that really well in films like Fury, The Big Short, Twelve Years of Slaves, Selma, Eat Pray Love and the list goes on. In my book, as an actor he chooses to be in films with important subjects that need to be brought to the spot light and as a producer he also seems to choose films with important stories that need to be told. Stories that motivates, enlighten and inspires the human spirit. I love that! I'm huge fan. This factor is really something I absolutely love about acting and filmmaking. It can be Powerful!
You have a beautiful voice that brings spark to a room when you sing, was that a major play in coming to LA?
No, not really. At times I thought it maybe some action in the music business in LA but my moving to LA was more because of acting. I could've chosen Miami, Atlanta, Austin depending on what type of music. I'm actually in the process of working with musicians in Austin, TX. I think it'll be fun and music is very much alive there with more attention to the art!
What was a deciding factor in breaking into acting or did you feel that it would bring you into a performing vocalist position?
I was already acting in short films when I was in Texas which was really when I found out I loved acting. It was completely unrelated with music. I tried it and I decided I had to pursue it. However, I do think both go hand and hand and complement each other. Plus, there are so many musical films being made. I would love to have an opportunity like that. The Greatest Showman is on my favorite movies list.
What did you bring with you from the runways of Chicago fashion? I have a feeling it was your charming personality!
Lol! Well actually working with runway in Chicago taught me a lot about the cultural differences that exist in this country and or even between States. It can be so different. So it was kind of educational as I got to learn a lot by working with models from different backgrounds. I do carry that experience with me.
Also made me realize most people don't understand how hard and fast paced is to work a runway. A lot of people think we just walk, when is actually all timed and pretty precise. It's a team effort cause if someone mess up it delays the entire show. Another thing I do carry with me is the ability to improvise because on the runway there are so many moments where stuff just happens. A piece of clothing can come undone or a shoe can break or an earring can fall in the middle of the runway while you're walking and you just have to keep on going and improvise. I actually think modeling and acting have a few things in common. Most runway or photoshoots we have to act.
So you hosted the Award Ceremony at the 2019 UMFF. How was that? And, you are signed for a supporting role on the film The Cupids produced by Lynn Tang? How is working with her?
Well, it was awesome! I mean UMFF is really about celebrating filmmaking and different cultures. So I was so impressed and happy to watch all the performances that night. It was really rewarding to witness the love of filmmaking and the love for the art. Literally people from all over the globe. I had a Blast!
And yes, I'm and I can't wait! Omg, Lynn is such a hard worker. She is also the executive director of UMFF. She is really an inspiration because she loves film and filmmaking and she's pouring herself into it to make things happen. I admire her determination and love of film and work ethics. The fact she's a woman has a sweet spot in my heart because we need more women producing in Hollywood.
And now, branding, what a huge leap Carolina! But certainly an obvious one, given your outstanding beauty. Tell us how that door opened for you?
Branding is just the future. I guess for entertainers anyways. The industry's changed so much! Now days you have to do more and more with a few exceptions of course. If you are an actor, or singer or model who was born into it who's already very known, I would say the "Story is different" and that individual doesn't have to do as much. And I mean no disrespect. I'm just saying the way it is. But even then I'm seen more and more big stars seriously getting in the social media wagon because of their projects. So it has affected everyone. For a long time, I've been hearing that music artists for example don't make their money from music. They have to make money with endorsements, campaigns and shows among other things. Now social media has brought a whole different way to do things and it changes the game for everyone. I see most casting platforms asking the actors to link their social media to their profile. It's like almost becoming a requirement. I know bloggers that have their own clothing brand and we know actors like Sophie Turner who openly said she got her role because of her social media influence.
As an actress I think the role should be given to the actor/actress that best fit the role and had the best performance during the audition process. But looking from the business side I see why companies want that influence or at least want to know that their main faces can "Sell". Sell not just the project but the merchandise and everything that comes with. It's very tricky for us!
All and all it is a lot more work for us and it's not easy. I do like the possibility and opportunity of creating a future more as a whole say like JLo. That women to me is the definition of a brand.
All and all we just need to enjoy the journey and be open for possibilities. Stay Positive! There are no formulas or recipes to follow. Not anymore. And every person has a different journey.
So, now what? Directing, writing, humanitarian promotions?
Right now I'm more focused on Acting and trying to work on music. But, you know me so yes I'm writing. So we will see. I don't have a humanitarian promotion yet but I'm waiting for a piece from a designer that works promoting awareness regarding human trafficking and I do think it is a huge issue in our present society.
I can see myself working on something like that. I think I'm waiting for the right opportunity with the right organization. But this cause does speak to my heart.
Who is your mentor in California?
Super tricky question. I don't have a mentor, maybe I need one. But I do have some people I like to listen to and I have a lot of faith in them. They have the same love for film but they also have a huge baggage on the business side. So I do admire their knowledge! I've worked with both of them and I'm looking forward to work with them again. I know both have bright futures producing and directing. A.W Scott who's a writer, director and producer and Craig Ahrens also writer, director and producer.
They're also both Business PhD, lol. I would say if you are an actor and you are cast in their projects you don't need to worry about anything. They know what they are doing. As an actress I can say to be able to have that trust and feel comfortable enough where you can just trust the process it's huge!
You can find Carolina de Athey at http://carolinadeathey.com/
Acting at https://www.imdb.com/name/nm5276140/
Music at https://itunes.apple.com/us/artist/carolina-de-athey/544508767
Influencer shop at http://carolinadeathey.com/index.php/brand-influencer/
Social Media
By Sandra Smith-Doghmi