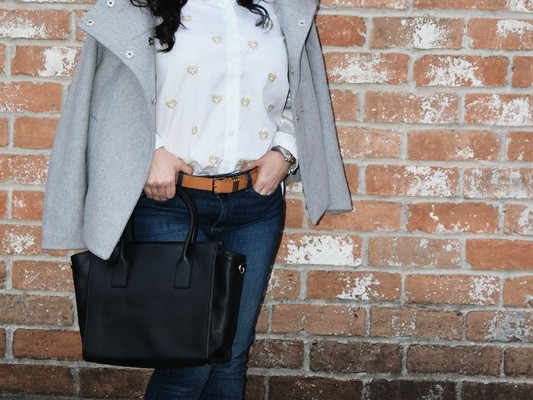 2015 Fashion & Style
|
Today I was back at work to tie up loose ends before the end of year. I still can not believe it's almost over! It was a casual day which means denim for most of us in corporate America. I like to keep it simple a white oxford with cute details and comfy tweed flats. What I really love are the small details like my hearts on my top are the same on my flats.
How cute is that?  For denim I like most need a great stretch. There is nothing better than a great fitting jean, and these do not disappoint. One thing for sure a white shirt and denim is a timeless classic. If you invest in the right pieces they will stand the test of time!  What are your favorite work day denim looks?
Denim Paige c/o Zappos
Bag Kate Spade (sold out) but love
Flats J Crew (sold out) but love and on sale
Top J Crew (sold out) but also purchased 
Coat Old Navy (on super sale peacoat darker version avail)
Have an amazing day!
XOXO
Mel
Mel Menjivar – Working women in corporate America & Vegas 2 LA Magazine's Resident Fashion Expert. I am a thirty something women; LOVE to Shop, love cooking, clothes, and most of all shopping. I love to share my style, my fashion finds, and great recipes for the women on the go.